Adam Sandler's first Netflix movie 'Ridiculous 6′ surprises no one with predictable cast 
|
He's done it again. Everyone's favorite wannabe funny guy, Adam Sandler, just casted his first Netflix original movie
Ridiculous 6,
and the cast is not only ridiculous but predictable. Sandler royalty including Steve Buscemi, Rob Schneider, and Jon Lovitz, will be returning for another funny-less Happy Madison film, the first of a
four-movie deal with Netflix
. The film will also star Dan Aykroyd, Will Forte, Nick Swardson, Terry Crews, Vanilla Ice and Taylor Lautner.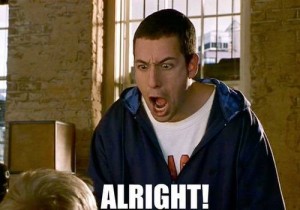 For any of you surprised by Sandler's casting of former one-hit wonder and former werewolf Taylor Swift lover, Ice and Lautner both appeared in Sandler flops
That's My Boy
and
Grown Ups 2
.  Though, Ice and Lautner only appeared briefly, it just shows you that you never really leave a Sandler film. You can't be in a Sandler movie and expect to move on, cause he will find you. Look at poor Steve Buscemi. He's finally being taken seriously as an actor for his great work in
Boardwalk Empire
and he still can't escape the grasp of Sandler's flat mediocre comedies.
Production for
Ridiculous 6
 officially begins February, and, according to
the Wrap
, the film will be based on the old western
The Magnificent Seven
. Apparently Sandler will play an orphan brought up by an Indian tribe, putting his career in jeopardy and probably causing a controversy the size of Depp's
The Lone Ranger
. Did you not learn from Seth MacFarlane's shit bomb
A Million Ways to Die in the West
?