11 'Twin Peaks' questions that may never be answered
No, that wasn't a dream or a visit to the Black Lodge: Twin Peaks season 3 was cancelled yesterday.
Though the definite future of the cult classic Twin Peaks is still a tad wobbly, it was confirmed yesterday that creator David Lynch will not be involved in the production of the new season of Twin Peaks, which was expected to be released by Showtime next year. Though Lynch dropped out of the project, even going as far as contacting the cast about his departure, there is still an air of uncertainty whether Showtime will continue production without Lynch. Our guess is most likely not- No Lynch ultimately means no Twin Peaks, and a certain fan revolt if anyone other than Lynch puts their greedy hands on this cult favorite.
So we're assuming that thats a wrap. Twin Peaks is done, and will likely never be revived in the near future by the legendary filmmaker. As we wipe our tears of hurt away Donna-style, we can't help but slowly burn up in fury as a rush of unanswered Twin Peaks questions comes to mind. That's why we've put together some of the Twin Peaks questions we have that might never be answered. Ladies and gentlemen, put that famous Angelo Badalamenti soundtrack on, and countdown with us as we go through this sad list of unanswered Twin Peaks questions.
1. What ever happened to Audrey and the bank explosion?

I'm going to start this list off with a bang…literally. Everyone's favorite Elizabeth Taylor doppelganger Oxford-wearing daddy's girl was last scene handcuffed to a bank vault in protest. It was all cute and heroic until an explosion went off, leaving the future of Audrey Horner unknown.
2. Who was the biological father of Lucy's child?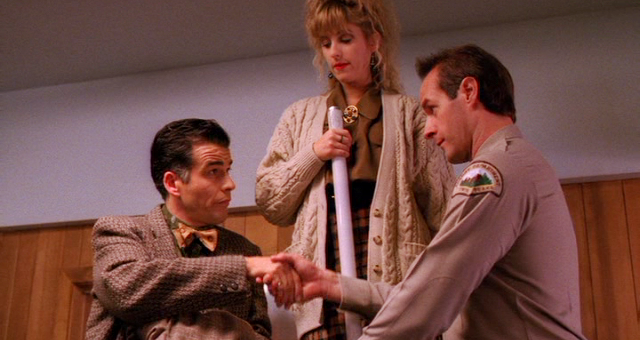 We know Lucy name Andy as her kid's father regardless of DNA, but we couldn't help but still be curious- was it Andy who fathered Lucy's lovechild or the fashionable likely in-the-closet Dick Tremayme? Maybe we'll find out on next week's Maury.
3. Did Donna ever accept Benjamin Horne as her father?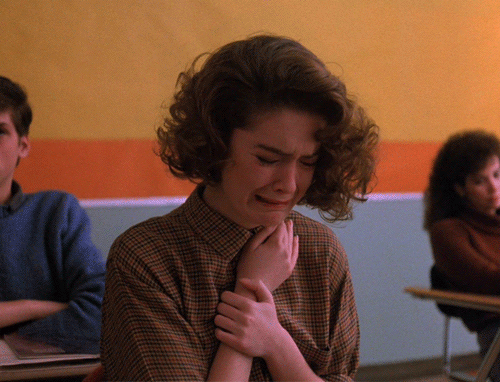 Speaking of daddy issues; the revelation that Benjamin Horne is actually Donna's father was such a curveball, it hardly gave us some time to really ponder. Donna being Donna, of course dramatically freaked out and refused to accept Benjamin as her father. Did she ever have a change of heart and forgive her mom (who was played by Zooey Deschanel's mom) for lying to her all her life? Can she accept being the daughter to a big time perv and the half-sister to a cynical Audrey Horne?
4. Did James and John Wheeler keep their promises and return to Twin Peaks?
Ladies, ladies, ladies. Can we really trust men who promise they'll be back, just in time to sweep you off your feet and live happily ever after? Donna sure did, after she gave James the green light to find himself after having found himself in bed with a murderous cougar. Audrey on the other hand is a realist, and though incredibly smitten by the Billy Zane who holds Audrey's V-card, did not fully believe his character John Wheeler would return. Lets just hope that the young couples did reunite sometime after the finale…that is if Audrey didn't blow up at the bank.
5. What ever happened to the Nadine-Ed-Norma love triangle?
Lets all be honest: we were secretly glad that Nadine lost her memory and believed she was a horny high schooler as a result of her failed suicide. Can we all hold hands and admit we're horrible people, please? Everything was looking good for the Nadine-Ed-Norma love triangle: Nadine was with Mike-which was really gross-and Ed and Norma looked liked they'd finally end up in each other's arms…that is until Nadine got her memory back. Darnit! So close, but ultimately never actually signed the divorce papers, Ed could've married the woman of his dreams….or maybe he did? We really need to know Lynch!
6. Did Bobby and Shelley get married? And if so, how long did they last?
Realistically, couples like Bobby and Shelley don't last long. Romances that start off being extra marital affairs, to partners in crime as they try to weasel insurance money out of your dim-wit husband, don't usually last forever. If the two did actually tie the knot after the season finale, I suspect they we're already filing divorce papers within the following three years, after a chain of more affairs, on both part.
7. Did Leo's face get eaten alive by tarantulas?
Most likely yes, unless someone stepped in and rescued Leo, but who would do that, really? Leo got what he deserved and hopefully died a slow uncomfortable death. RIP Leo.
8. Did Harry ever move on, or did he start a relationship with the wooden knob that is now Josie's spirit?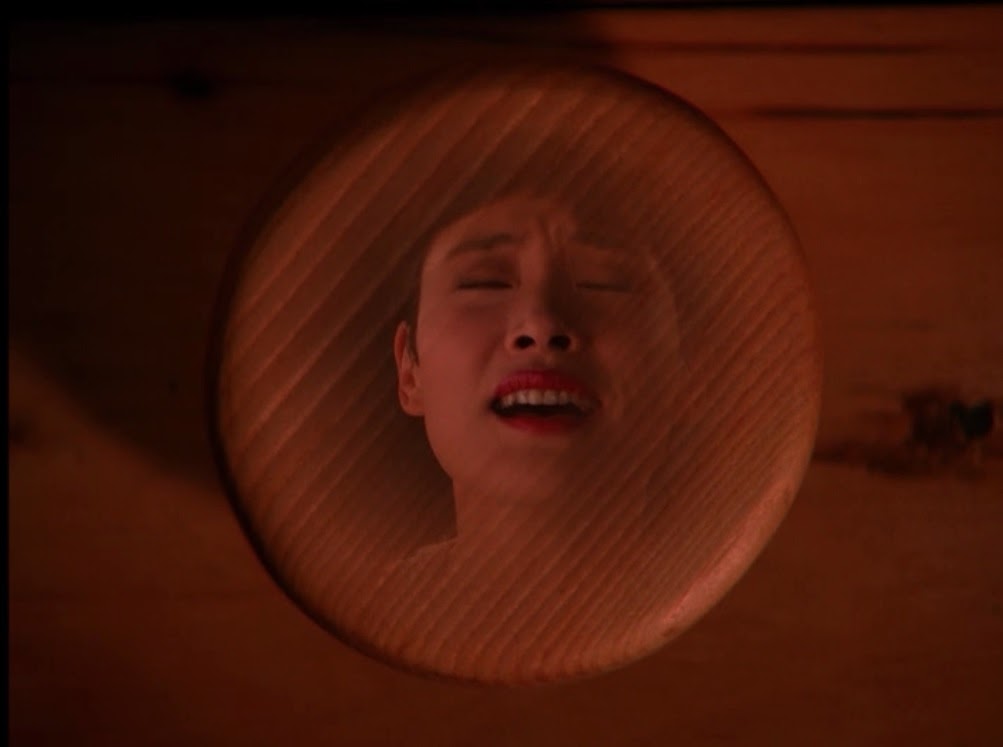 Hey, it's possible; Harry was a damn mess the last time we saw him, mourning the death of not-so-innocent Josie. After discovering Josie was ultimately a femme fatale and played him and the town, it seemed Harry would never get over, who he claimed to be, the love of his life. Lets hope Harry did move on and did not drive himself crazy enough to start boning the wooden knob that Josie is apparently trapped in now. Love-sick men will do anything.
9. Did Laura's mom ever get a break?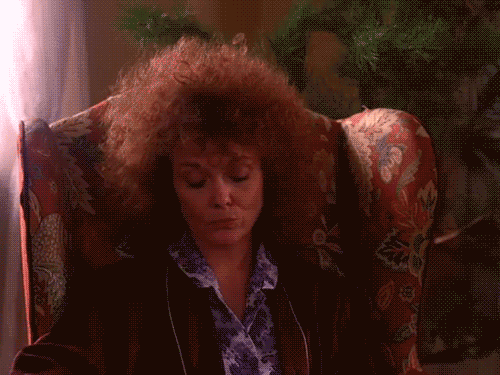 First her daughter is found murdered, apparently raped and high on coke, and then her husband dies after being discovered he was the murderer of their daughter (to be fair, he was possessed by BOB). Poor Sarah Palmer; it seemed all she would do on Twin Peaks is cry and cry. I'm hoping Sarah Palmer left Twin Peaks, is now residing in Hawaii, remarried and giving art lessons every weekend. Now wouldn't that be nice Mrs. Palmer?
10. Why did Laura say she'd see Dale Cooper in 25 years?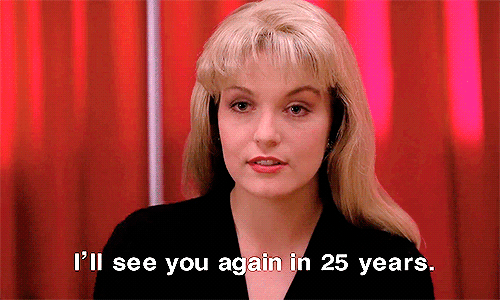 Speaking of Laura, though the mystery of her murder was solved, the bigger mystery and the premise of the proposed season three was why Laura wanted to see Detective Dale Cooper in 25 years. When Cooper first envisions the Black Lodge, he is 25 years older (the actual Kyle MacLachlan looks way better now than in that episode) and a sexy Laura tells him she'll see him in 25 years. So, what was Laura referencing? What was going to happen in 25 years that only Laura knew? We will unfortunately never know.
11. And of course, the biggest question: What happened to Dale Cooper?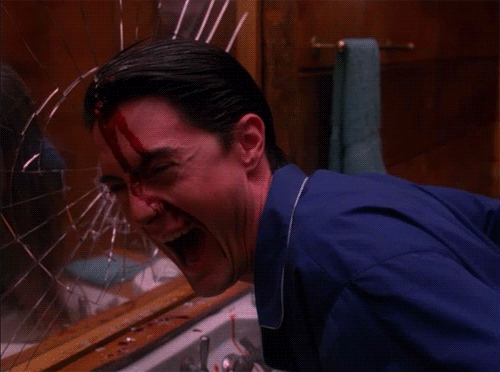 Never have a series ended with such a cliffhanger- Dale Cooper possessed by BOB?! The possibilities? The hero of the story is now possessed by the very spirit he was after, the very monster that possessed Leland to rape and murder Laura. Everything seemed to be going well for our caffeine addicted detective- he got his FBI badge back, he got a new hot babe (Heather Graham, none-other)and it seemed all was finally calm in the town of Twin Peaks, that is until Cooper's last visit to the Black Lodge resulted in the spookiest Twin Peaks episode ever, and BOB possessing Cooper. The final scene of a possessed Cooper smashing his head against a mirror only to look back at his reflection and see BOB, was one for the books, but now it seems we will never know exactly what happened to poor Dale Cooper. Did he terrorize Twin Peaks for 25 years, before ultimately meeting Laura again, possibly freeing him from BOB, like she hinted? We'll never know, and we're so pissed we'll never find out we might just pay a visit to Dr. Jacoby. Yes, I did make that joke, and yes, I am that lame.