'Unbreakable Kimmy Schmidt' Episode 9 & 10 Recap
|
Kimmy Has a Birthday!
S 1, Ep 9
Kimmy is turning the big ole' 30, and things are looking great for her- new friends, rich boyfriend and a city that is miles from the Indiana bunker she spent 15 years trapped in. She plans a birthday party that she hopes will be the ultimate "adult party" (not that kind of adult party), until her step-dad and half sister come into the picture. Didn't know she had family? Apparently Kimmy's mother remarried Randy, the cop that was assigned to her case, had a daughter with him who they named Kymmi (Mad Men's Kiernan Shipka), and ultimately left her family. Randy has never found her- like the mole women, Randy isn't the best in finding missing people.
Kymmi and Randy are a curious father-daughter pair. Randy is a dim-wit who reminds me of that "cop" from Scary Movie, and Kymmi is ridiculous angry all the time. She hates Kymmi for taking her spotlight, which is a tad selfish, being that Kimmy was kidnapped for 15 years. Either way, Kimmy doesn't want them at her birthday.
Meanwhile Tituss has fallen for a mummy-dressing coworker, who he hasn't actually met but invited to Kimmy's party anyways. Instead of helping Kimmy set up, Tituss is working on a song (he later sings Katy Perry's "Fireworks") for Kimmy he promises is better than any gift he could possibly buy her (he's very cheap). Kimmy then expects Logan to help her prepare, cause according to Titus, that is what boyfriends do. Logan, however, doesn't show up early to help, but he does send her 30 gifts, which is always awesome. Dong, of course, is the knight in shining armor that not only shows up early to give Kimmy a hand, but he's also brought her gift- a bicycle he made himself.
When the party is finally in motion, everything Kimmy was hoping for slowly falls apart. First: Logan takes credit for Dong's bike, ensuing a fight and a declaration of love from Dong. Second: Tituss' mystery mummy turns out to be an ex, which wasn't made very clear, so I'm kind of guessing that's what that was. Fey dropped the ball on that one.
And then finally, after a heated "argument" between Kimmy and Kymmi (the likes you'd only see in the cafeteria of a middle school), Kymmi runs away. Randy goes looking for her but does heroin instead to prove to a group of thugs he's not a cop. After shooting heroin, the thugs then introduce him to a prostitute they assume Randy was asking for. The description "white girl, very angry" can go a long way.
Kymmi is later found in an Olive Garden, the horrible Italian mock food establishment Kymmi kept gushing about. The family then reconciles- Randy sees a unicorn, a drawback of heroin it seems- and dine in "family style," which the monotone OG waitress point out it's not that great of a deal, anyways.
Episode nine introduced us to two characters that might've made a better fit early on in the series. It seems the writers are having a knack of randomly adding details to the show as they go on. The Dong-Logan-Kimmy love triangle, however, is a great move- it definitely adds to the rags and riches theme the show revolves around. Whether this love triangle will continue is still up in the air; but putting someone in the friend zone for long is never fair to anyone.
And so here we go: Will Kimmy pick Dong over Logan? Will Kymmi and Randy be series regulars for now on? We'll have to keep following this red-head's story to find out.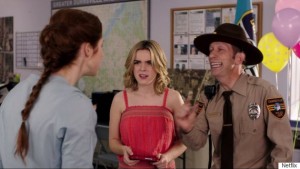 Kimmy's in a Love Triangle!
S 1, Ep 10
Dong's crush is now apparent to an oblivious Kimmy, who doesn't know how to handle two men fighting over her. Logan insists Kimmy stop beign friends with Dong, because according to him, it wouldn't be fair to string Dong along. This is possibly the wisest words ever spoken by a wealthy character on this show. Kimmy tries to let Dong down easily (she ditches the British accent Logan suggested) but can bring herself to abandon Dong who is wanted by the IRS who raided his job and deported the staff. Kimmy then pulls a Ross (the one when a not-so-single Ross invited his ex-wife Rachel to live with him), and asks Dong to crash on her couch, the most unlikely place the IRS would find him, apparently.
Tituss, meanwhile, is struggling to move up in his job because he can't play straight. A gay coworker who won a very straight role at work directs him to a straight acting coach (Breaking Bad's Dean Norris) whose straight techniques have helped a collection of professionals, including maybe Obama and Brad Pitt. Yelling things like "Elton John died!" to see if he can get Tituss to react is literally inflicting pain onto Tituss who cannot handle being straight. He does come off as straight towards the end of the episode though, almost getting into a bar fight over a woman. Yes, Tituss almost got into a bar fight.
Back with Kimmy, her love triangle starts to get shaky when a poor Dong is unexpectedly deported. This crushes Kimmy who believes she will never see Dong again, but what crushes her more is when Logan admits he was the one who called the IRS on Dong. Kimmy breaks up with Logan then and there and rushes to Dong who is conveniently waiting for a bus as Kimmy catches up to him, professes her newly cemented crush, and asks him to stay with her. According to Kimmy, if the police took 15 years to find the mole women, than they'll never find Dong! Dong accepts, but also proposes (What!). Hey, he can't be staying there illegally for too long, and the marriage would make sure Dong stays for good. Kimmy of course is too shocked to answer.
Episode 10 was a treat but also exemplified the biggest fault in the series, which is moving things at a ridiculous speed. Why sub-plots like Jacqueline's divorce and Dong's crush couldn't be stretched out a bit more, we'll never know. Things are moving too fast for Kimmy- in the matter of three months she's had three love interests, a family reunion and a marriage proposal.
What distracts viewers from this is Tituss' flamboyant and lovable persona. His character is desperate for stardom, by now it's clear that Tituss is truly the star of Unbreakable Kimmy Schmidt.
So, we will continue watching with these questions in mind: Will Tituss have a break-through straight role? Will Kimmy marry Dong to keep him in New York? And where the hell is Jacqueline? Only three more episodes to find out.