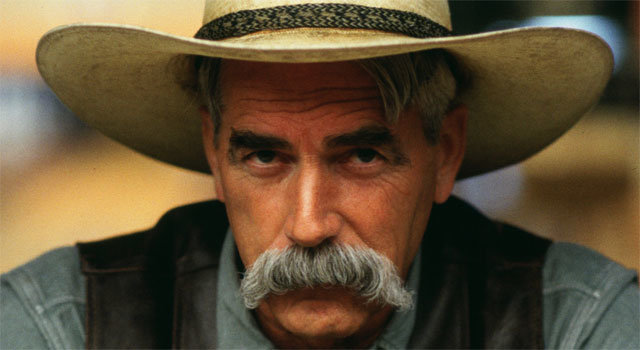 According to a report from Deadline Hollywood, TV veteran Sam Elliott will star in the new Netflix show The Ranch alongside Ashton Kutcher and Danny Masterson.
The show is about Kutcher coming back to his family farm after his failed football career. Him and his brother (Masterson) run the farm under their father (Elliott). Comedy and drama ensue…
If anyone is to play a father of two handome devils and still own a farm it's gonna be Sam fuckin' Elliott. He's been somewhat typecast as THE cowboy, playing roles like the Marlboro man in Thank You For Smoking and the mysterious man in The Big Lebowski… no doubt he'll fit the part perfectly. He's even got a few comedic chops out there already to enjoy, check out him on Parks and Recreation and you'll see what I'm talking about.
Did I mention this is a three-camera sitcom? Yeah! Netflix is going full sitcom. They even brought on producers Don Reo and Jim Patterson who were producers on Two and a Half men.
Along with being it's first show taped in front of a live audience, the series will also be the first series to do a bi-annual release. Just like AMC did with Breaking Bad and The Walking Dead, we're going to get half the season immediately and the rest of the season later in the year. I'm not sure why Netflix is doing this, but I'm sure it has to do with tapings, schedules, and Masterson's DJing career.
Either way, the show's first set of episodes comes to Netflix sometime in 2016.