7 reasons why 'Unbreakable Kimmy Schmidt' is life after 'House of Cards'
|
While the rest of us are trying to recover from that heavy House of Cards binge, the rest of us are looking out of our windows, watching the rain and thinking to ourselves, "What is next?" Life after House of Cards will not be easy; god knows when the next season will be announced, and the trending #HouseofCards will slowly disintegrate from your Twitter feed the weeks ahead. Should you go back to school? Should you, I don't know, work on a "career"? The dreaded relapse syndromes will reemerge soon, and before you know it you'll start to get all jittery like Doug Stamper when he can't get his Rachel fix.
So, what's next for us binge-watching junkies? Though, arguably, there isn't a political drama out there quiet like House of Cards, Netflix still has a large range of original series to offer. One of them is premiering tomorrow (or midnight tonight) and it's the Tina Fey series Unbreakable Kimmy Schmidt. Yes, my sad sad friends, there is a light at the end of the tunnel.
Unbreakable Kimmy Schmidt stars Ellie Kemper as Kimmy, a doomsday cult escapee who tries to start a new life in New York after years of living in a hole with her cult sisters. All 13 episodes will start streaming tomorrow, promising a new binge watch marathon that's worth including everyone (yes, even your mom).
So, what makes Kimmy Schmidt the perfect comedy fill-in until House of Cards (or Orange is the New Black) comes back around? Well, we'll tell you why; so stop your crying, put that ice cream bucket down and listen (read?). These are the seven reasons why you should watch Unbreakable Kimmy Schmidt.
1. Tina Fey is a goddess
Many will refer to Beyoncé as the goddess of music and curves, but Tina Fey has nothing on Beyoncé-Exemplifying brainsand beauty, Tina Fey is the ace in a deck of "okay" female entertainers. Unbreakable Kimmy Schmidt is the first series Tina Fey has worked on since 30 Rock, and if you're a 30 Rock fan, you'll know Kimmy Schmidt is in good hands. If you're not a 30 Rock fan than get out of here. Grab your shit and leave. We don't want your simple minded kind here.
2. Speaking of 30 Rock, some of your favorite 30 Rock characters will also appear
Fey has the power to include anyone she wishes in her projects, cause who the hell would say no to Tina Fey? So, from her large selection of comedy talent, Fey decided to stick to her guns, casting Jane Krakowski who's best known for portraying Liz Lemon's desperate friend Jenna in 30 Rock. From the looks of it, we wouldn't be surprised if more 30 Rockalums made a cameo (fingers crossed for a Tracy Morgan appearance).
3. Ellie Kemper's adorkability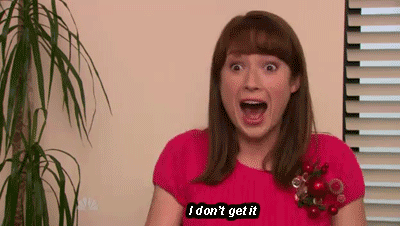 The word "adorkable" was toyed by the does and fairies that helped raise Zooey Deschanel in the enchanted forest she was born in (Google this, I'm sure it's at least half true), but just cause Zooey is the original adorkable (OA?) doesn't mean there aren't other pixie characters sporting cardigans and dreaming of sunshine and rainbows. Ella Kemper is your new adorkable, and though her eyeball size doesn't compare to Deschanel's, her naive and trusting personality might just dethrone Deschanel. Anything is possible, right?
4. Everyone loves cults
We love to hate them, and hate to fear them, but cults are kinda in. Yeah, that sounds horrible but those news segments about the latest crazed cult in middle-of-nowhere Idaho are too juicy to ignore. Unbreakable Kimmy Schmidt touches upon the cult culture (try to say that 10 times really fast), and the apocalyptic theories people coin. Kimmy's escape from a doomsday cult will make for great laughs, poking fun at delusional bandwagon followers we keep hearing about.
5. Starting over is always a good thing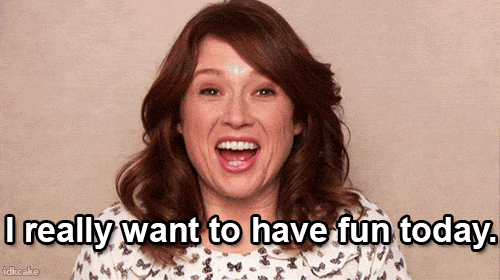 We all love a rookie, especially one who makes a big life move like Kimmy's. It fills our heart with adoration when we see someone struggling to fit in, cause shit, we've all been there (not everyone can be Regina George, and even she couldn't fit into those Juicy Couture sweat pants).  Watching Kimmy try to navigate through the liberated and modern mess that is the big city- and not just any big city, but the Big Apple- will comfort you whenever you need that, "You can do it," nudge. People will like you, we promise…. someone is bound to want to be your friend.
6. It's a damn Netflix original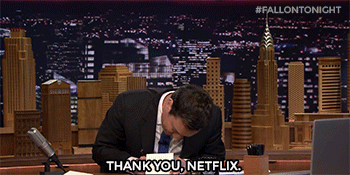 House of Cards. Orange is the New Black. Peaky Binders. Should I continue? The Netflix gods know us too well by now, so they know better than to serve their army of subscribers a plate of mediocre doo-doo. Netflix originals are pretty damn good; so good that some subscribers have an account just to watch these critically acclaimed series (I'm one of them), so don't doubt the very people who just closed a deal with Leonardo fucking DeCaprio yesterday. If you trust Leo, you trust Netflix. Simple logic.
7. Cause we're telling you to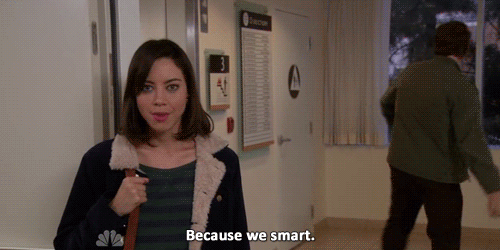 By now you've come to realize Now Streaming knows their shit. Yeah, most of us still rely on our calculator apps, but we know our Netflix shit. So trust us when we say you should watch Kimmy Schmidt, and stay tuned for our daily Kimmyrecaps starting tomorrow. Now forge that doctor note and keep binge watching.