Marvel's 'Daredevil's' first three episode titles and directors revealed
|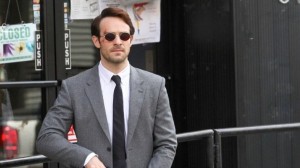 Hey you guys awake? Are you? Well, if you're not, this might just wake you up. Marvel's Daredevil's first three episode titles were released today, along with the names of the directors for each episode.
We know what you're thinking. We're not crazed stalkers that had to Reservoir Dog (now on Netflix) torture someone for this information. We promise. This information was revealed by the British Board of Film Classification, whom we assume are big Daredevil fans. Go Britain!
Here are the following three titles, and the directors who directed them:
Season 1, Episode 1- INTO THE RING, directed by Phil Abraham
Season 1, Episode 2- Cut Man, directed by Phil Abraham
Season 1, Episode 3- Rabbit in a Snow Storm, directed by Adam Kane
Abraham is most known for directorial work on Mad Men, which, side note, is having its grand finale April 5th. Abraham has also worked on Netflix original Orange is the New Black and Ray Donovan. Kane's most recent work is thriller series Hannibal. Sounds like these two are pretty qualified for a much more serious Daredevil reboot, and we cannot wait to see how these two do.
Daredevil's 13-episode series will start streaming exclusively on Netflix April 10th.