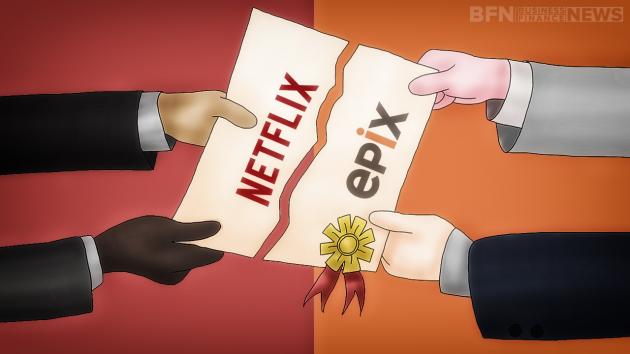 If you've been excited about the big Hollywood films on Netflix like Rocky, Wolf of Wall Street, World War Z, Hunger Games or anything of that ilk, time to get over it because they're all Leaving Netflix at the end of the month. Unfortunately for Netflix subscribers, the Epix deal that has been long running expires at the end of the month and chief content officer Ted Sarandos said they have no intention of renewing the deal.
According to a post in Variety, Epix confirmed this info late Sunday evening and said that they're moving their titles to Hulu.
"Hulu already offers some of the best and biggest titles in television programming, but our subscribers have been asking us for more, and more recent, big movies. We listened. Through this new deal with Epix, we are proud to now be able to offer a huge selection of the biggest blockbusters and premium films," Craig Erwich, Hulu's senior VP and head of content, said in the announcement. "This is a landmark deal for Hulu and it marks a huge expansion for our offering of premium programming."
The article also mentioned that neither parties explained what caused the end of the five year relationship… I'm going to speculate it's a lot like a bad breakup with a slutty girlfriend:
In 2010 Netflix and Epix met and hit it off! Things were going great. For two years they had a great exclusive relationship that got better and better as the titles kept rolling in. Then one day out of the blue Epix decided it didn't want to see just one streaming service and started talking to Amazon Prime… Netflix wanted to play it cool but… it hurt.
Years went by and Epix kept sticking it's digital dick in more and more streaming services and now Netflix is sick of it! Epix gave them an ultimatum and Netflix called Epix a whore and said they want nothing to do with 'em.
During the breakup announcement Sarandos kept talking about it's current projects like Beasts of No Nation, The Ridiculous Six, and War Machine, so we know they're moving on.
I say good for Netflix!  The only thing I'm going to miss is Wolf of Wall Street. But I have this video to get me though.