We're in the middle of September finally and a lot of shows are on their way back with new seasons, The Blacklist is among those and Netflix was kind enough to release the second season so those chord cutters can catch up before the new seasons starts up. Sometimes you just want to watch a few shows on Netflix to get you ready to watch more shows.
The fine folks at Investorplace compiled a list of all the shows that are coming out soon as well as shows that are coming back next month and what you should be watching to get you pumped up! This list is like a fine wine and cheese spread that was assembled by true TV connoisseurs. So being a douchebag website who is hungry for content I'm just sharing there listicle here for your enjoyment.
Netflix TV Shows to Binge-Watch: Thriller Edition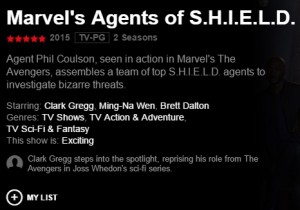 If You're Waiting For: Blindspot (Premieres Monday, Sept. 21)
Binge-Watch: Marvel's Agents of S.H.I.E.L.D.

NBC's upcoming Blindspot offers us another hero molded from the memory-impaired-but-surprisingly-adept-at-combat archetype. Jaimie Alexander, of Thor fame (and also Kyle XY, if you're more the ABC Family type), stars as a Jane Doe who is discovered in the middle of Times Square, tattooed head-to-toe with mysteries, including the name of one FBI agent.
Blindspot promises lots of action, and hopefully lots of intrigue as Jaimie Alexander's character attempts to unravel the mysteries surrounding her.
In the meantime, if you're craving an action-mystery show with a secret agent bent, check out Marvel's Agents of S.H.I.E.L.D. A superhero-less TV show based on a superheroic cinematic universe might be a difficult sell, but S.H.I.E.L.D. does a remarkable job at building its own universe, which makes it one of the best Netflix shows.
Much of the first season is spent on villain-of-the-week missions as the agents spiral around a central mystery. But when the show finally takes off, there's no looking back, and the second season is some of the most fun you'll find among Netflix TV shows to watch while you're waiting.
Bonus: Jaimie Alexander also makes brief appearances as Lady Sif — Thor's battle-loving ally — in both seasons of S.H.I.E.L.D. Prepare thyself for much combat and destruction!
Netflix TV Shows to Binge-Watch: Comedy Edition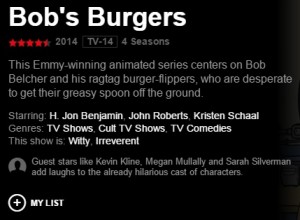 If You're Waiting For: The Muppets (Premieres Tuesday, Sept. 22)
Binge-Watch: Bob's Burgers
The stock market is in turmoil; national and global politics are fraught with tension; stress and fear abound. In other words, we could all use a laugh. Thankfully, ABC is bringing back The Muppets to give us all some comic relief.
That's right, Kermit the Frog and friends make their return to the small screen, but don't expect the same skits or structure from their last series, The Muppet Show. Instead, the Muppets are keeping the same satirical, spoofy tone that made the 2011 Muppetsmovie such a hit. The show will be a mockumentary-style look at the daily lives of Kermit and pals.
While you're waiting to see the backstage drama of America's favorite group of puppets (sorry,Sesame Street crew), take a bite out of Bob's Burgers. The cartoon sitcom is one of the funniest Netflix TV shows out there. Bob's Burgers borrows from the Muppets' absurdist traditions, and the sharp writing offers some of the most interesting characters on television.
Bonus: The showrunner of Bob's Burgers admitted that the Muppets were a big influence on the show— both in terms of overall tone as well as character design.
Netflix TV Shows to Binge-Watch: Superhero Edition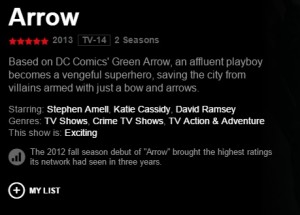 If You're Waiting For: Supergirl (Premieres Monday, Oct. 26)
Binge-Watch: Arrow
In addition to dominating the box office, superhero shows have begun to dominate TV as well. Last year's Flashwas a huge hit for the CW, NBC experimented withConstantine and Netflix itself is enjoying the fruits of a Marvel partnership with its Daredevil series … not to mention three more superhero-themed Netflix TV shows in production.
(Note: I am morally obligated to acknowledge that Gotham is ostensibly based on the Batman universe. However, I am not obligated to lie about it doing so with any semblance of success.)
And now CBS (CBS) is jumping into the fray with Supergirl, which aims to take Superman's Kryptonian cousin and bring her into the modern era of TV. Melissa Benoist stars as Kara, a young woman who is finally emboldened to embrace her superhuman self and use those powers to defend the puny humans.
Need a superhero fix to tide you over until late October? Watch Arrow, which was arguably the first in this new wave of superhero TV shows. Actually, you should watch it regardless. It's one of the best Netflix TV shows. Like most shows, Arrow needs most of the first season to settle into its characters and its premise, but the stuntwork is unparalleled from the beginning. And by the time the second season starts, it's firing on all cylinders.
Bonus: Greg Berlanti and Andrew Kreisberg, two of Arrow's creators, are co-creators and executive producers on Supergirl.
Netflix TV Shows to Binge-Watch: Horror Edition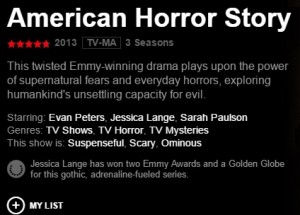 If You're Waiting For: Scream Queens (Premieres Tuesday, Sept. 22)
Binge-Watch: American Horror Story
Sometimes you just want to be scared, and while movies have long been the default medium for horror stories, TV is making a strong push back into that territory. The Walking Dead used AMC's production value to bring bloody believable zombies to the small screen, MTV reformatted Scream into a TV show, and now Fox is bringing us Scream Queens. (Which, to be clear, is wholly unrelated to Scream.)
In fairness, Scream Queens is positioning itself as a horror-comedy (the creators were also the minds behind Glee), but there seem to be enough horror elements to merit putting it in the horror camp. The show follows new pledges in a college sorority, 20 years after a mysterious murder.
If you're more interested in the horror than the comedy, fire up Netflix and dip into American Horror Story. Each season keeps the same cast (mostly), but follows a new style or conceit; so far, we've had Murder House, Asylum, Coven and Freak Show (the upcoming season will be American Horror Story: Hotel).
Because AHS airs on FX instead of a broadcast network, it get away with creepier, scarier and more horrific elements than other scary shows. And if you like your shows scary, American Horror Story is one of the best Netflix TV shows to binge-watch right now.
Bonus: With last season implying that the various seasons are all connected, there's no better time to catch up on American Horror Story.
Netflix TV Shows to Binge-Watch: Action Edition
If You're Waiting For: Heroes Reborn (Premieres Thursday, Sept. 24)
Binge-Watch: Heroes
"Wait! That's cheating!"
Yeah, yeah, we know. But listen: The first (and best) season of Heroes premiered waaaaaay back in 2006. Sure, that might not seem like a long time, but we're talking about nearly a decade of time passing. The iPhone hadn't even been released when this show started! It's worth revisiting the beginning.
Heroes, when it started, was about a handful of seemingly ordinary people who discover that they have — for lack of a better term — superpowers. And there was one particular superpowered person who could steal other heroes' powers, which had the unfortunate side effect of leaving them dead. The result was a tightly knit story about worlds changing and lives colliding and fear and family and the consequences of our decisions.
Also, there was an invincible cheerleader.
Heroes Reborn is going to bring us back into that world many years later, presumably so we can see the fallout of a world where a few people have infinite power, others have none and some people have both.
Bonus: If you still feel like that recommendation was cheating, try Chuck. The NBC show about a computer nerd who also becomes a secret agent has a slightly more comedic tone, but carries the same heart as Heroes, and also stars Zachary Levi, who will be in Heroes Reborn.
Adam Benjamin is an Assistant Editor at InvestorPlace. As of this writing, he did not hold a position in any of the aforementioned securities, but he does own Arrow on Blu-ray.