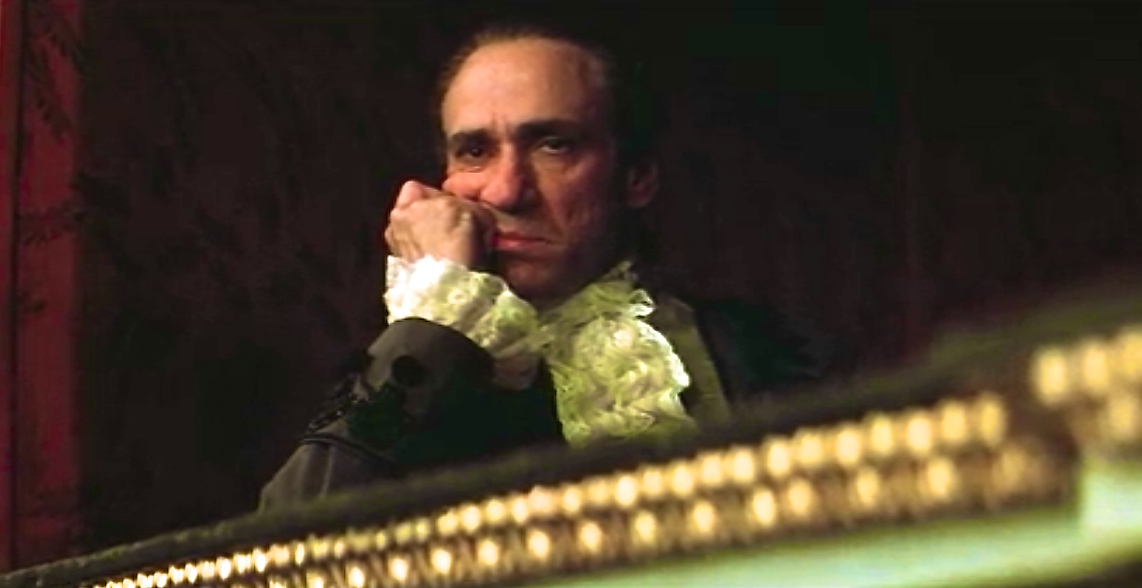 Best Picture Oscar winner, Amadeus (1984), has in it what might be my favorite scene of all time. It's the late 1700's. Antonio Salieri (F. Murray Abraham), the accomplished court composer of Austrian Emperor Joseph II, has gotten his hands on a portfolio of newly finished sheet music written by Wolfgang Amadeus Mozart (Tom Hulce). He starts to read and is immediately overcome with emotion; reduced to a quivering mess of tears in seconds as his brain converts the visual stimuli into a mental symphony. All at once, the profound majesty of the music coming off the page and Salieri's own jealous anger collide. He loses his faculties and drops the portfolio; the soon to be priceless music hitting the floor and scattering.

This scene taught me a few things, like, oh yeah, before recorded music people actually had to read it to understand it. Just like 2014 Oscar contender, Whiplash, Amadeus shows us that those chosen few who live and die for music are rarely understood by the masses who look at music as an occasional entertainment, nothing more. Us lay people will never know what it's like to strive for ultimate excellence in such a seemingly unknowable realm such as music.
A biopic that is really nothing of the sort, Amadeus uses a real life subject to explore real ideas, facts be damned. What the film tackles is the the diluting of genius by the forces of mediocrity. Salieiri is the self appointed "patron saint" of mediocrity (to paraphrase one of the best lines in movie history) who, when confronted with the towering talent and vulgar behavior of young Mozart, curses god for giving all the inspiration to such a vile ingrate and not to himself. Driven mad with both a love for the artist and a crippling jealousy, Salieri sets out to destroy the little shit. But will Mozart's party-boy lifestyle beat Salieri to the punch?
The indie gem, Frank, now streaming on Netflix, takes this Mozart vs. Salieri rivalry and places it in the indie rock world. Frank is an inspired musical savant who shields himself from the world via a giant fake head. Jon is an untalented songwriter recruited to play keyboards for Frank's band.
Through the course of the film, Jon has his life changed by Frank's raw musical vision. In the end, in order to bring Frank's art to a larger audience, Jon waters Frank down, infecting him with mediocrity. Frank ends up with a mental breakdown and so he withdraws from the only world that mattered to him. Only when Jon exits Frank's life does Frank gets his musical legs back. Jon learns the painful lesson that true genius can't be boxed in or corrupted. Salieiri knows this too, so he inserts himself in Mozarts life, not to help him, but to destroy him out of sheer jealousy and self-hatred.
Amadeus also has the delightful Jeffrey Jones (Ferris Bueller's Day Off) as Emperor Joseph II, the well meaning but slightly dim music lover.
 And hey! There's a teenaged Cynthia Nixon (Sex and the City) killing it as Mozart's frightened maid.
Experience Amadeus before it leaves Netflix June 19.