So what if the their Spielberg collection consists of Amistad and Hook? Who cares if the only Altman films they have are Three Women and Ready to Wear? What Netflix does have in abundance is garbage. It's time to surrender and celebrate it. This isn't so bad it's good… this is so bad it's Netflix. 
           
The Left Behind books have sold 65 million copies worldwide and to quote dead Christian, Jerry Falwell, "In terms of its impact on Christianity, it's probably greater than that of any other book in modern times, outside the Bible." In 2000, the Left Behind movie, starring Kirk Cameron, broke  video sales records and spawned two sequels. In 2014, a "big" budgeted remake was produced, starring Nick "I'm still broke somehow" Cage. When I say "big budgeted" I mean only in contrast with the four million dollar original. The remake cost four times that, which is high for a Christian film but super low by Hollywood standards. A Left Behind remake seems like a questionable money-making venture in 2014, since one assumes the fly-over states have already embraced the original, and folks on the coasts would reject this nonsense on principle alone. The latter turned out to be true; the remake didn't even break even. How bad of a decision maker you have to be to make remake a movie in the hopes that Nicolas Cage's non-existent box office clout will be the magic ingredient to help deliver your philistine message to the masses?

The Left Behind films tackle the eschatological idea of "The Rapture," in which all of god's believers are catapulted to heaven while the unbelievers are stuck on Earth; an Earth where the anti-Christ is rising. Despite my best intentions, it's hard not to be pulled in to Behind's terrifying premise. The idea of millions of people suddenly vanishing is undeniably disturbing and thought-provoking to say the least. I'd say I would prefer an athiest version of the same story, but HBO's The Leftovers also seems too disturbing for me. However, to try and tackle Behind's intentions is almost too gargantuan a task; there are way too many theological contradictions and way too much faulty logic to really take any of it seriously. For instance, according to Rapture lore, all children automatically go to heaven. So where's the cut-off age? Heaven is off limits after your first wet dream? Your first period? Also, what about original sin? I thought we're all sinners right out of the gate. See what I mean? Not even all Christians believe in the Rapture, so why should we?
Let's go to the So Bad It's Bullet Points!™
First sign Behind '14 is not Oscar Material
This picture.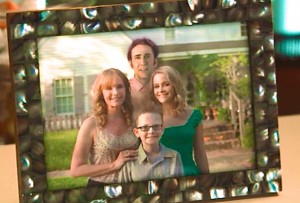 vs.  God Mommy!
Say what you want about Left Behind, but the mom/dad/daughter relationship it offers is pretty intriguing. What happens when an unbelieving Father and daughter team up to rebel against the raging bullshit of a Jesus freak mom? Not that we see the Behind mom's ever act freaky; it's up to dad and sis to tell us how intolerable the moms are to live with, with their "Rapture" this and the "coming of the anti-Christ" that. The filmmakers deliberately save us from the moms' Jesus-freakouts because then, of course, they'd seem crazy. Too bad mommy was called up to heaven, her constant warnings of doom and gloom were an absolute joy to live with, were they not? And to think, all this time, we should have just shut up and believed every bat-shit word she said. Shame on us.
One would think that a large budgeted remake of a shitty, 4×3 aspect ratio'd, Kirk Cameron movie would be vastly superior to the original; not so. In fact, the remake feels way cheaper and smaller in scope and ambition than the 2000 version. How is this possible? The only explanation I can see is that this new Behind was planned as the first part of a series and was supposed to leave the rest of the story to the sequels. Now that new sequels might not see the light of day, Left Behind'14 just seems a non-starter of a thriller starring Nicolas Cage and his curiously normal hair-do. If sequels are eventually made, they'll have to be done the Atlas Shrugged way, where each new chapter is cheaper and shittier than the last, thus failing to ever deliver the Left Behind message to the masses properly.

The original Behind may have Birdemic-grade CGI and title fonts that'll make you angry, but everything is shockingly worse in the remake; the direction, the script, and especially the acting. The old Behind actually makes an effort and really takes you places like Israel and Washington D.C.. The new Behind spends its time in an airport lobby, a mall and a cramped first class section on a 747. The original seems to be taking its big ideas from the book; the remake seems to be basing itself solely on the three minute plane trip from the original film.
The original benefits immensely from having an actual antagonist; the antichrist, who is planning to drain the world's resources while pretending to be the world's only hope for salvation. The closest thing the remake has to an antagonist is an asshole dwarf- oh, and god too, I guess. Sure, in the new Behind people figure out that the Rapture is happening but they/we're all too concerned with how the plane is going land to even think about the end of the world.

The remake is just a z-grade plane disaster flick that gets caught up in the drama of its motley crew of first class travelers; An Asian, a fat black guy, a muslim, a dwarf, an old couple, a hysterical Jordin Sparks, a rich texan, etc. But tell me please, who cares about a plane full of people when the whole world has been destroyed?
When Kirk Cameron breaks down and surrenders himself to god (not the porcelain god) in a public men's room.

When Chad Michael Murray, playing the role Kirk Cameron made famous, has two bad line readings within sixty seconds. The misplaced accent, "I enjoyed your speech." and "Thanks for rescuing me for that nutty lady" instead of from that nutty lady.
When an elderly woman's Altzheimers-addled comments are used for comic relief.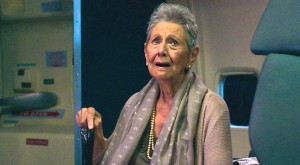 When little person, Martin Klebba, easily the worst actor out of both versions, does the "I'm watching you" motion with his less than menacing, stubbly fingers.
_____________________
Next Week: Scott Baio's Zapped!