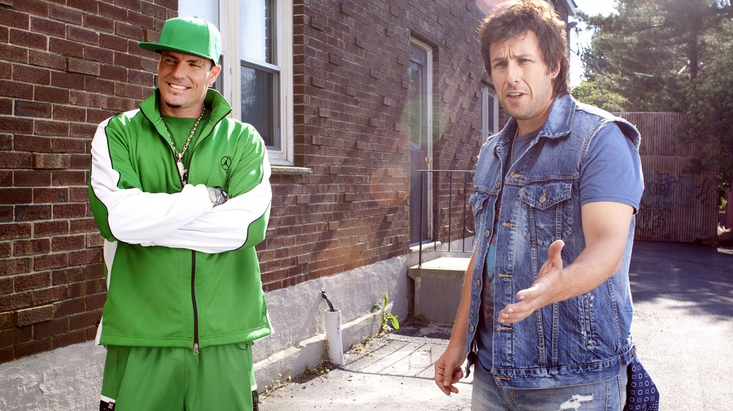 Adam Sandler's Netflix project, The Ridiculous Six, is currently under fire as a result of a dozen or so Native American extras walking off the set in protest of the offensive jokes appearing in the script; Jokes like the names of two female Native American characters being 'No Bra' and 'Beavers Breath.' The Indian Country Today Media Network reported that a group of Native American actors expressed to producers their displeasure with the show's portrayal of the Apache culture, and producers responded by giving a few obligatory polite fucks while suggesting the actors leave if their sensitivities are displeased by the material. And leave these actors did.
And so the way was paved for Adam Sandler to take his turn as America's newest Face of Racism - a position we seem to love filling! It didn't take long before everyone was up in arms about how offensive Sandler is and claiming he is perpetuating negative Native American stereotypes. A version of the script, dated December 7, 2012, was acquired and posted by Defamer, allowing us all to read short snippets of a Ridiculous 6 draft and decide that was more than enough to tear the entire project apart and crucify Sandler as one more racist white guy. 
Thankfully for him, Netflix and Vanilla Ice have come to Adam Sandler's defenses.
Netflix, which is contracted with Sandler through 4 films, stood firmly by his side. "The movie has ridiculous in the title for a reason: because it is ridiculous. It is a broad satire of Western movies and the stereotypes they popularized, featuring a diverse cast that is not only part of, but in on, the joke."
Mr. Ice, for his part, also came to the defense of Mr. Sandler…sorta. When interviewed by TMZ at the airport, where all great journalism takes place, Mr. Ice expressed, "It's a comedy. I don't think anybody really had any ill feeling or any intent or anything. This movie isn't Dancing with Wolves. It's comedy. So I mean, it's not like they're there to showcase anything about anybody. They're just making a funny movie, I think. I don't have anything to do with it. I just play my part."
Word to your mother.