John Stamos confirmed on the Jimmy Kimmel Live show Monday night that the Full House spinoff will indeed stream on Netflix.
According to the former Full House star, and everyone's favorite ageless 50-year-old, the spin-off Fuller House has already been ordered by Netflix- 13 episodes to be exact.
The spin-off will follow DJ, the oldest Taner sister, her children, sister Stephanie and best friend Kimmy Gibler.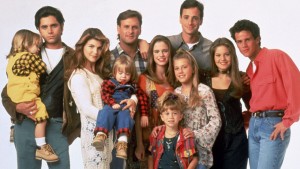 Stamos further explained that the first episode will be a one-hour reunion episode, followed by the spinoff episodes. Stamos will be guest starring and producing the series, but so far the only Full House cast members confirmed are Candace Cameron-Bure, Jodie Sweetin and Andrea Butler.
Fingers crossed the Olsen twins will join the project; so far Netflix is talking to the famous twins, Bob Saget, David Coulier and Lori Loughlin at the moment.
Let's hope the Olsen Twins will ditch their high-fashion granny stye raise their thumbs and yell out the good ole' , "You got it dude!" line. If not, we'll demand a re-do.