I'm a relative newcomer to the world of TV murder mysteries, having never seen an episode of CSI, Law & Order or Murder She Ate. Recently though, I've gotten hooked on only the finest examples of the genre, like The Killing, Top of the Lake, The Fall and Broadchurch. I can now say I'm a murder junkie (My first G.G. Allin reference!). Broadchurch just might be the best of the bunch; it's the most beautifully photographed police procedural I've ever seen, shot on location in the most gorgeous little English seaside town (Dorset) you'd ever wanted to live in. For the residents of Broadchurch, the quality of life is ridiculously high, that is until a young boy is brutally murdered and found on their pristine shores.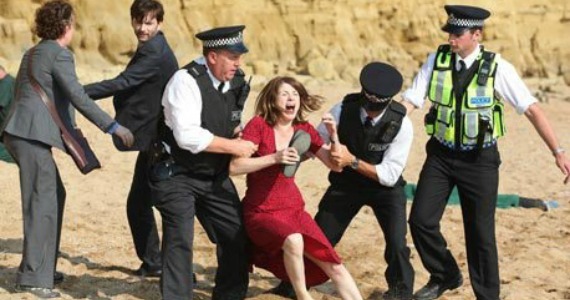 The show revolves around Ellie Miller (Olivia Colman), a newly appointed detective who lives in the town with her loving house husband, her young son and her newborn. When Danny Lattimer, the eleven year old son of a young couple (Jodie Whittaker and Andrew Buchan) is found dead, Ellie finds herself over her head and out of her comfort zone, forced to conduct an objective investigation and stay emotionally detached from the victim's family, to whom she is very close.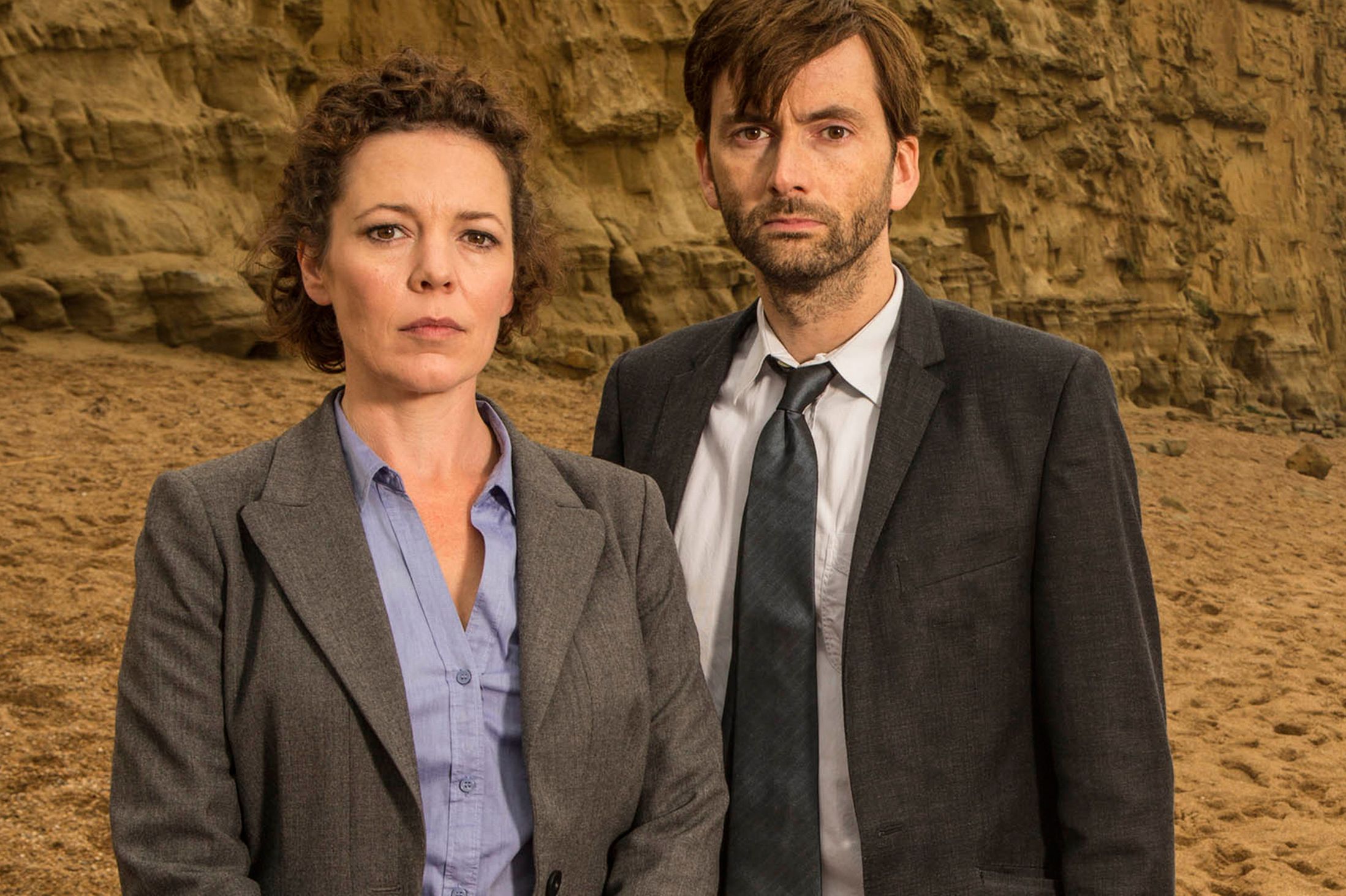 Enter Alec Hardy (a gloriously intense David Tennant, who has already reprised the role for the American remake, Gracepoint) a misanthropic, surly, depressed but brilliant Scottish detective who comes to Broadchurch to spearhead the case. Ellie and Alec hate each other at first (duh); she's friendly and emotional, he's cold and preoccupied. Soon, respect and affection for each other grows into a strong alliance.
At the conclusion of season one I felt a little disappointed and kind of naive; I failed to take in to account the tropes of the genre, which are:
Suspect after suspect will be up for judgment and then found innocent throughout the show. Therefore, nobody who looks like they're guilty will actually be guilty until the last minute of the last episode.
The murderer will be the very last person you would suspect.
I had a real problem with that second rule. When the culprit was revealed, it just seemed so random; a bowl of oatmeal could have committed the crime and it would have made just as much sense. That's why I was happy to see that in season 2, now starting up on BBC America, the tragic case of Danny Latimer is far from over. As Danny's killer takes the stand to be sentenced, he (or she! Or she!) shocks the entire community by pleading not guilty. Holy shit! Now a full trial is called for and the whole town must re-live the tragedy, especially Danny's long-suffering parents. To make things even juicier, an unsolved murder case that Det. Alec was reeling from as season one began is now brought into the mix, when Alec reveals to Ellie he's been biding his time to unleash proof of the real killer.
Season two is gearing up to kick much ass, both as a nail-biting courtroom drama and a shocking Whodunit*. Is newcomer Charlotte Rampling going to rample it all up a notch? Ya know it!
_____________
Season 2 of Broadchurch is now airing on BBC America and coming soon to Netflix. Catch up on season 1 now— or I'll kill you. Ha ha! I just love murder so!
*Whodunit = Who has committed this terrible crime?