Unless you're totally out of touch with the superhero world, you may have heard Netflix is giving Daredevil a second chance to display its former glory by making it into a web television series, set to air April 10, 2015. This will be the first of a four-series deal on Netflix and will premiere with 13 one-hour episodes right at 12:01 a.m. PT.
But when the devil was dared to be adapted for the big screen in 2003, the leading role choice, dated music and carelessness of the characters and story turned even the most enthusiastic fans away.
Affleck's (Daredevil) reputation at the time of the film was seen more as a joke than a superhero. Fast-forward to today and we are still here with that same feeling amongst his latest superhero role, to debut as Batman for Batman v Superman: Dawn of Justice, set to be released in 2016 (but let's not get too far off topic). It also didn't help that in the 2003 installment, Daredevil was a murderer. We know the director wanted it dark but that was just straight up not hero-like.
The Netflix series will bring a new (hero-like non-murderer) angle to Daredevil with a needed add to the lawyer-by-day who fights crime at night story.
It stars Charlie Cox as Matt Murdock/Daredevil, Deborah Ann Woll as Karen Page, Elden Henson as Foggy Nelson.
Daredevil follows the journey of Matt Murdock (Charlie Cox), who, blinded as a young boy, acquired new incredible superhuman senses, now fighting against injustice by day as a lawyer and by night as the super hero Daredevil in modern day Hell's Kitchen, New York City.
In an interview with Entertainment Weekly, Charlie Cox (Daredevil) states an interesting change about his character's tagline "man without fear"
"Someone who does not have fear is not that interesting. The way I like to think about it is that he is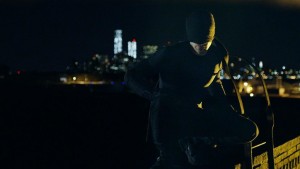 a man with fear, but he on a daily basis decides to confront that fear and to overcome it. So the title of 'the man without fear' is almost a title that the public in his world gives him just because of what he does. But inside himself, he's very afraid at times. And he finds a way to confront those fears and punch through it."
The expectation I have for bringing Daredevil to life on the (computer) screen is for there to be enough time, in the series, for Murdock's character to develop. The "man without fear" is not something you can just become. I expect the series to show Murdock struggling to be that man and battle to overcome the fear of protecting Hell's Kitchen. I like the idea of a superhero being human even though they have powers. Cox's response confirms the character won't just "walk into the club like, what's up?" attitude.
Today, (thanks to The Dark Knight and The Avengers) superhero flicks have a more defined style and a concrete understanding of what the fans want (and what I want) when their comic books coming to life. Charlie Cox will put a refreshing look on the superhero genre with this series by staying true to its original comic book beginning and his transformation as the "man without fear."
The new version of Daredevil marks the first installment of four new Marvel shows, the others being Jessica Jones, Iron Fist and Luke Cage. Eventually they'll all come together for an Avengers-style mini-series, The Defenders. Until then, at least we'll have Daredevil on to binge watch Netflix for 13 blissful hours.