Happy Thanksgiving! It's important to remember that no matter how bad you think your family is… there's plenty families having a worse Thanksgiving on Netflix. Here's a list of some of the most dysfunctional families celebrating this most joyous holiday! There's a little something for everyone including so much beautiful food shots you'd think you died and went to food porn heaven… oh, and Piper is in prison.
Please enjoy yourself today, grab your favorite family member, cuddle up and watch your favorite specials and celebrate Thanksgiving on Netflix the only way the millennial's know how.
Thanksgiving Episodes on Netflix
Orange Is The New Black - 'F*cksgiving'
S1 Ep9
Piper misses a Thanksgiving visit from Larry when Healy throws her in solitary confinement for dancing with Alex.
That '70s Show - 'Thank You'
S5 Ep8
On Thanksgiving, Eric can't tell Red about failing math or about his secret engagement to Donna. Kitty's parents add to the family chaos!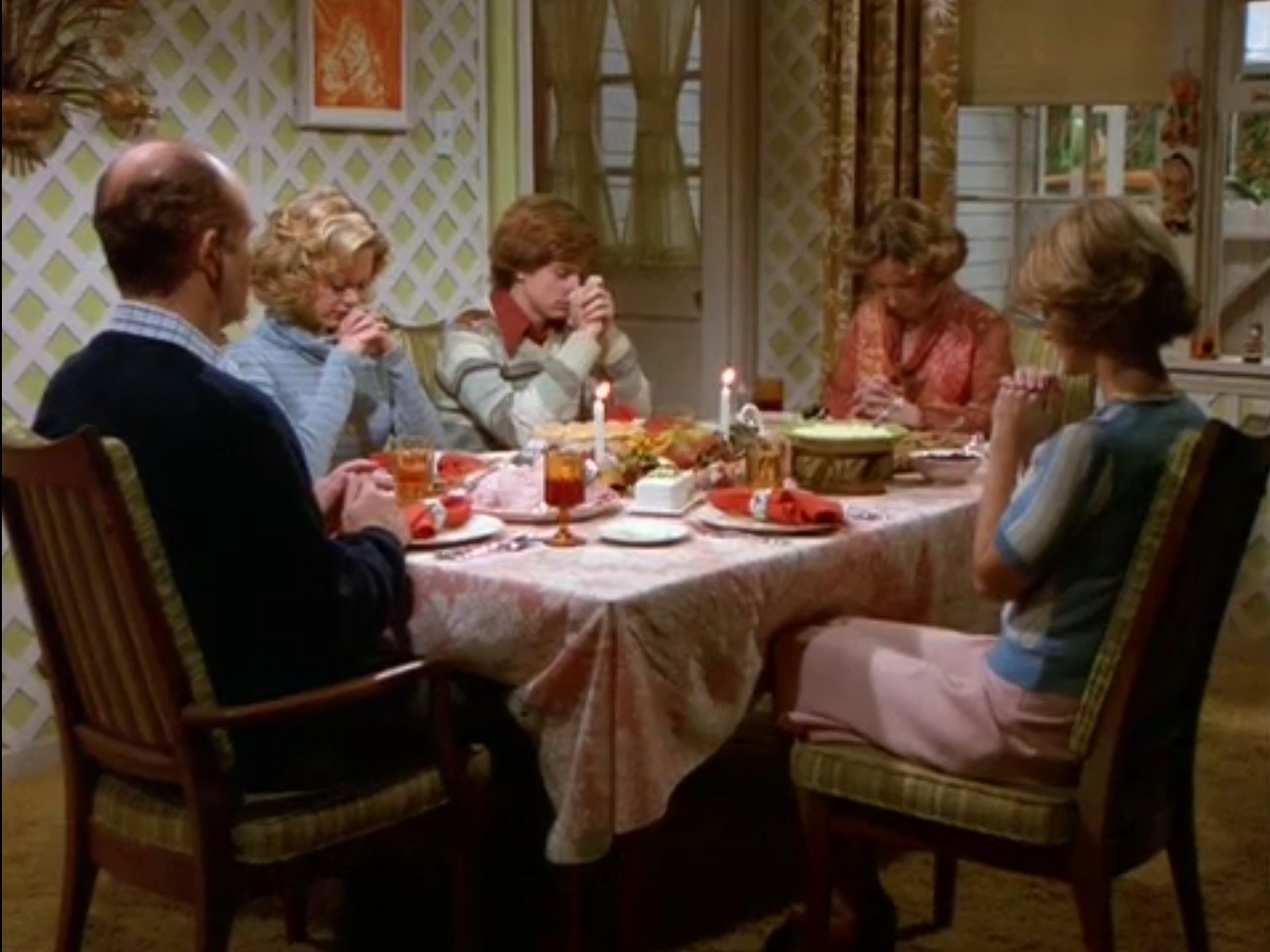 Buffy The Vampire Slayer - 'Pangs' 
S4 Ep8
On Thanksgiving, Buffy comes across a vengeful spirit of a member of a Native American tribe who was wiped out by white settlers!
How I Met Your Mother - 'Slapsgiving'
S3 Ep9
Lily and Marshall host their first Thanksgiving as a married couple, while Barney is tormented by the impending slap bet countdown clock! *Salutes* Major Character Arc!
Family Guy - 'Thanksgiving'
S10 Ep6
As Lois cooks a big Thanksgiving meal for the neighborhood, Joe learns that his son Kevin is returning from Iraq!
Malcolm in the Middle - 'Thanksgiving'
S5 Ep4
Reese cons Hal and Dewey to help him cook Thanksgiving dinner. Malcolm ditches the family event for a party to pursue his latest crush!
Mad Men - 'Public Relations'
S4 Ep1
Betty and the children spend Thanksgiving with Henry's family, as Don gets set up on a blind date with Bethany Van Nuys (Anna Camp).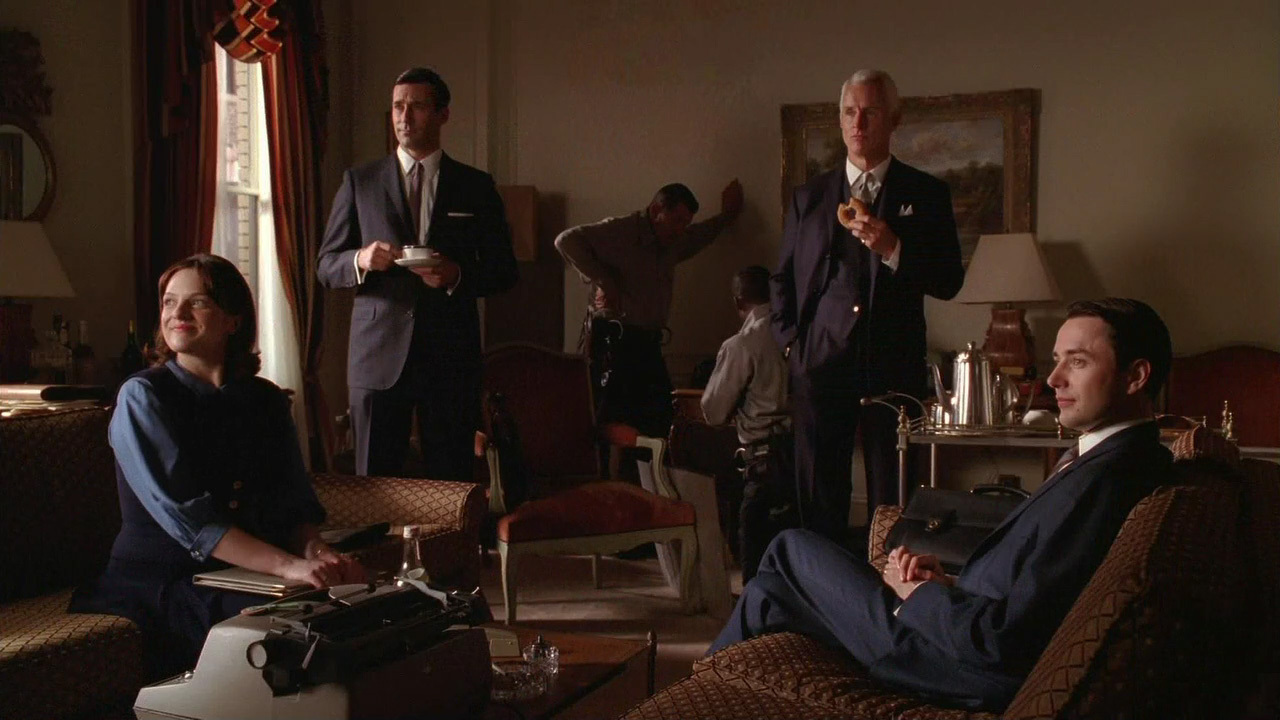 Dexter - 'Hungry Man'
S4 Ep9
Dexter stops by Arthur's house for a Thanksgiving visit and realizes that though Arthur appears to be a happy family man, he's actually terrorizing his family!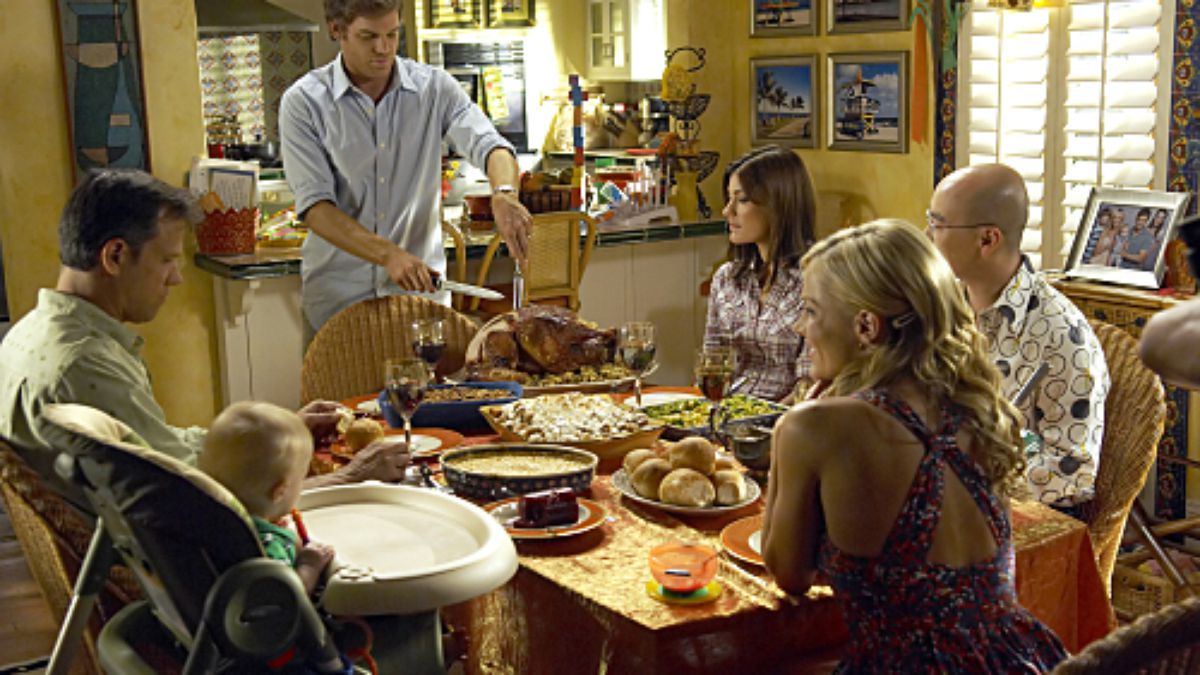 Bob's Burgers - 'An Indecent Thanksgiving Proposal'
S3 Ep5
In order to snag an old flame who digs married men, Mr. Fischoeder bribes Bob into letting him pass off Linda and the kids as his own family on Thanksgiving!
One Tree Hill - 'Between Raising Hell And Saving Grace'
S8 Ep9
Brooke tries to make a home-cooked Thanksgiving dinner, but things don't really go as planned. After relocating at Haley's for dinner, Mia and Alex have a cat fight over Chase! Turkey with a side of drama!
Parenthood - 'Happy Thanksgiving'
S2 Ep10
Adam is torn between his job and family after getting some surprising news. Camille and Amber share a bonding moment while preparing Thanksgiving dinner.
Heroes - 'Thanksgiving'
S4 Ep11
Noah hosts a non-traditional Thanksgiving by inviting Claire over for dinner. But the meal gets awkward and uncomfortable when his ex-wife shows up with her new boyfriend, who has a small dog fetish!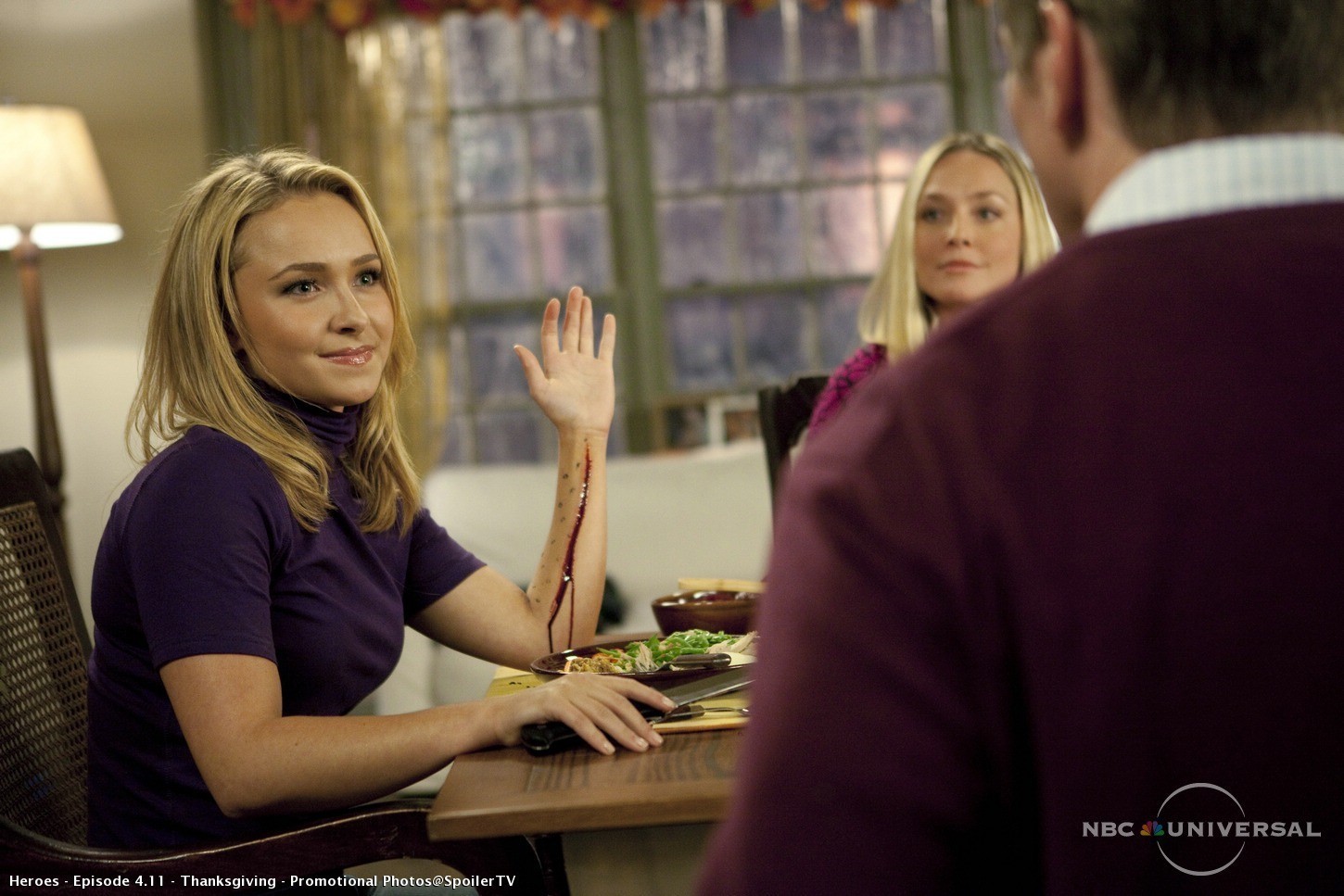 Grey's Anatomy - 'Thanks For The Memories'
S2 Ep9
Turkey Day is a lot more difficult for Meredith than she's willing to admit! Also, Izzie throws a dinner to which it appears no one is coming.
It's Always Sunny In Philadelphia - 'The Gang Squashes Their Beefs'
S9 Ep 10
When some bad blood with old foes compromises their ideal Thanksgiving, the gang tries to make amends by breaking bread with those they've crossed.
Glee - 'Thanksgiving'
S4 Ep8
Some McKinley alum return to the school to give the glee club advice, while Rachel and Kurt have a non-traditional Thanksgiving in New York.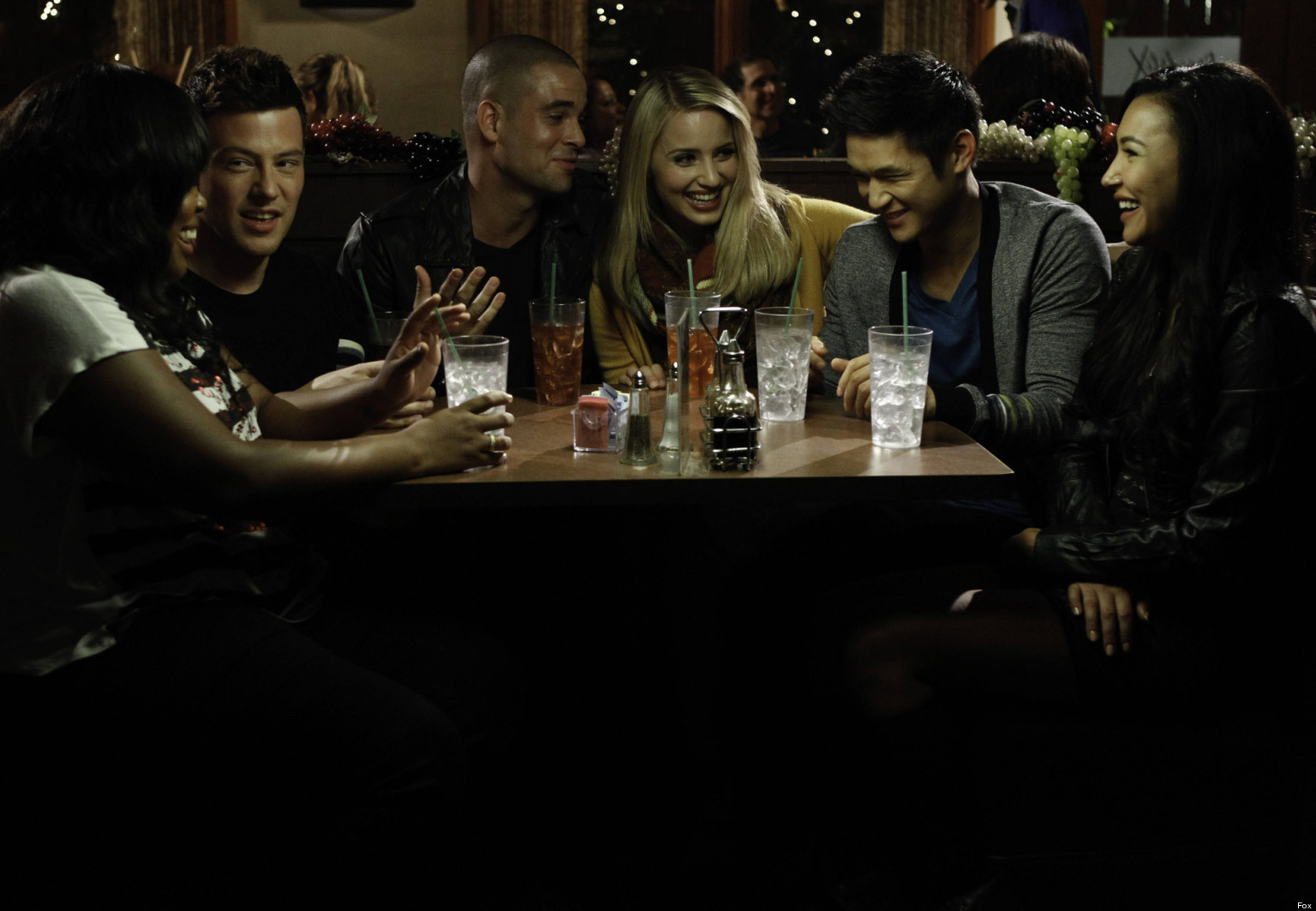 The Wonder Years - 'The Ties That Bind'
S4 Ep7
After the Arnolds' stove stops working, Kevin's dad asks for a raise, and gets a new promotion — but is also forced to travel for work on Thanksgiving!
New Girl - 'Parents'
S2 Ep8
Jess gets help for a "Parent Trap" style scheme to get her divorced parents back together on Thanksgiving. Jamie Lee Curtis guest stars as Jess' mom!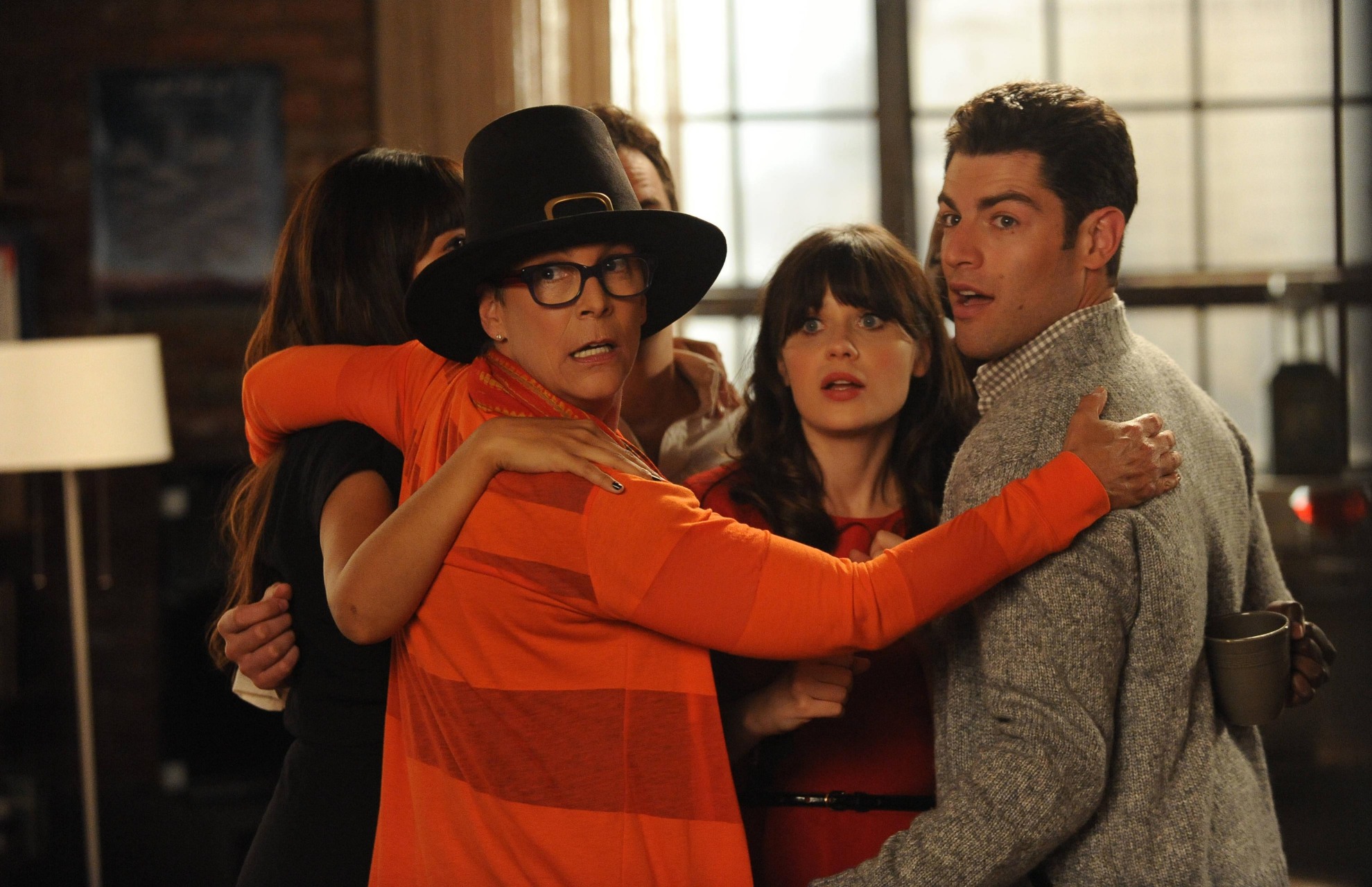 Gilmore Girls - 'A Deep-Fried Korean Thanksgiving'
S3 Ep9
Lorelai and Rory have four Thanksgivings, making appearances with Lane, Sookie, and Luke on the way to dinner with Richard and Emily.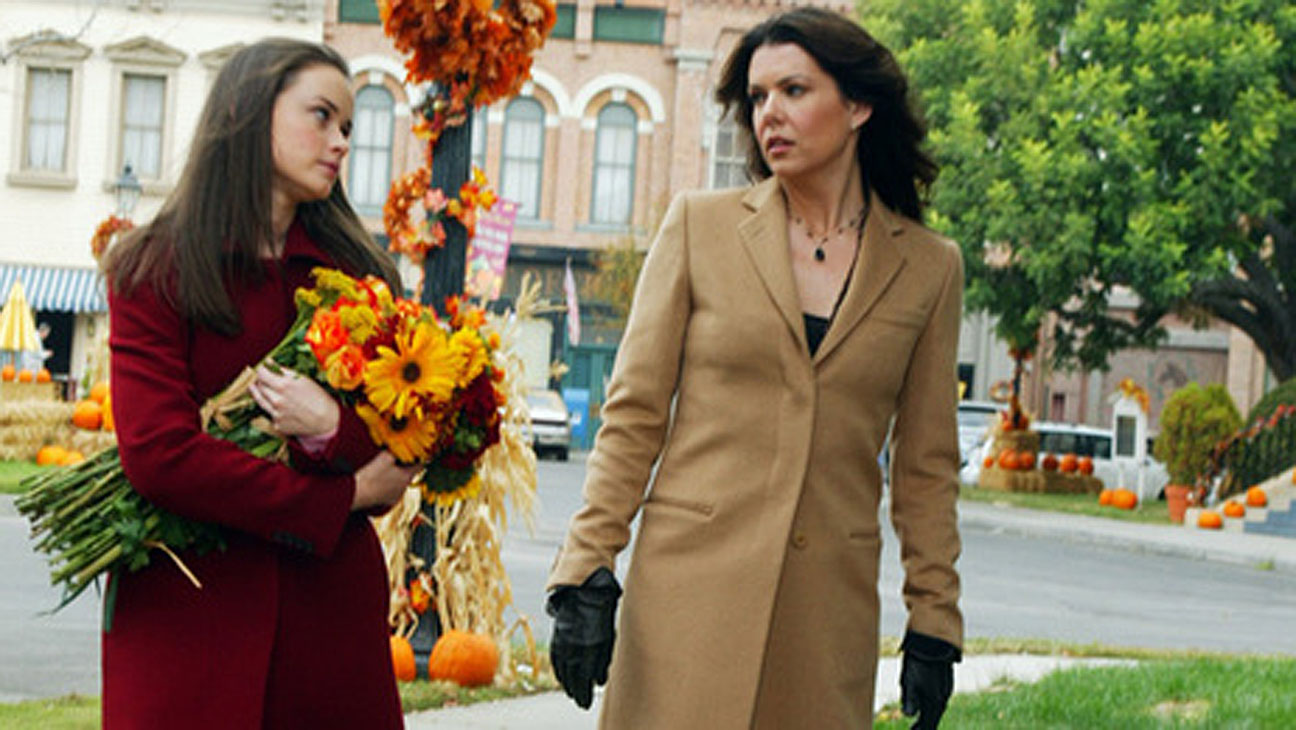 Friends - 'The One with the Rumor'
S8 Ep9
Back when Brad Pitt was still married to Jennifer Anniston, he guest starred in this Thanksgiving episode, playing Ross's old friend from high school- who HATED Rachel!