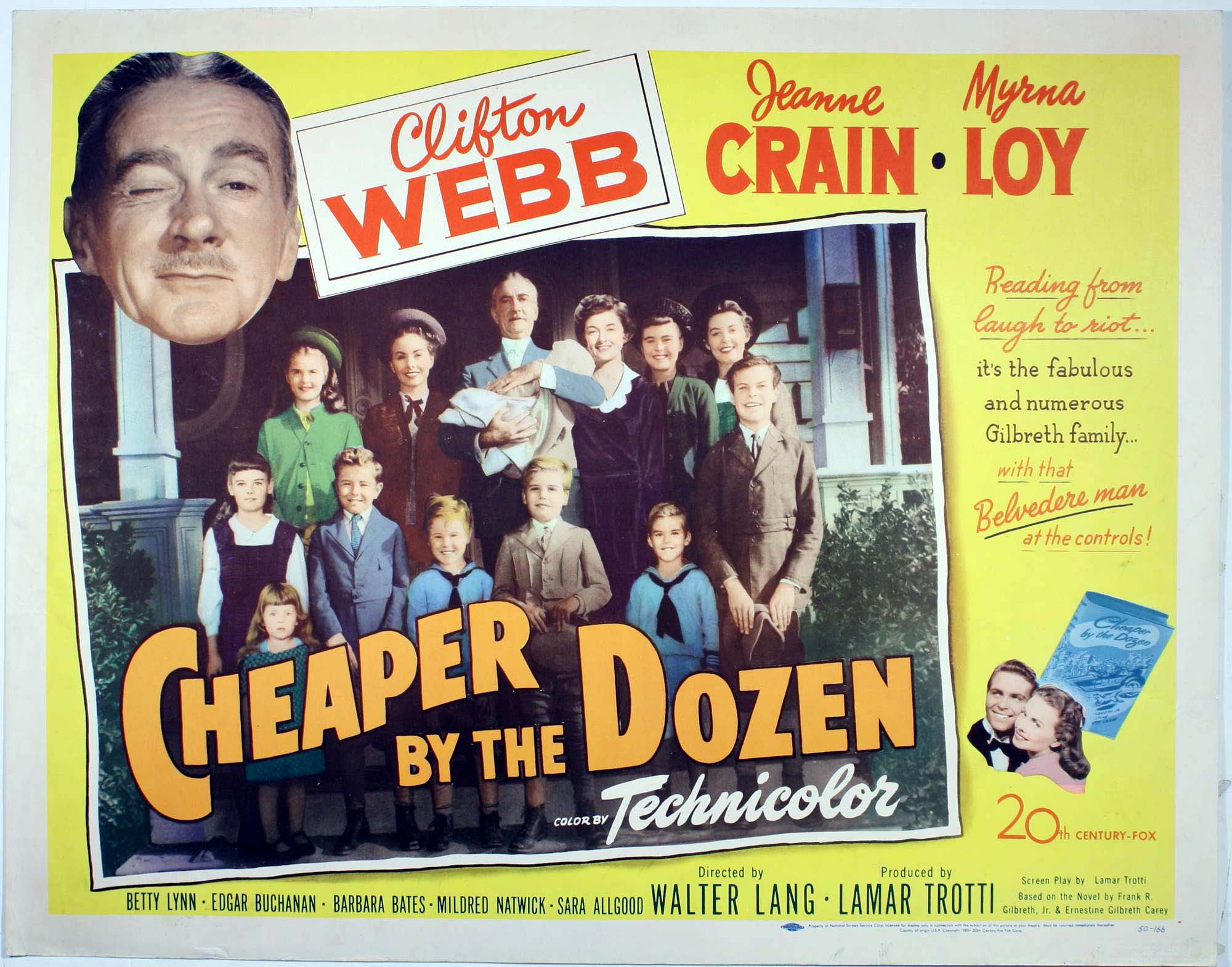 Break out your Costco membership cards because it's time for another installment of Classic Movie Monday, where I sift through Netflix's Classic Section so you aren't stuck watching that new Nicolas Cage movie that you had no idea existed. This week I watched the original Cheaper By The Dozen (1950) in hopes that my love for Myrna Loy would make up for how boring I thought the plot of the remake was.
The film stars Myrna Loy as mother of twelve Lillian Gilbreth, Clifton Webb as Frank Gilbreth, and a slew of actors playing their 12 children. The only one you really need to know about is their daughter Ann who is played by Jeanne Crain. You get scenes with the other kids but it's pretty much limited to family meetings and efficiency drills to show you that living in a house of 14 doesn't mean you can't all gather together in less than 14 seconds. Seriously, that's a significant plot point for Frank.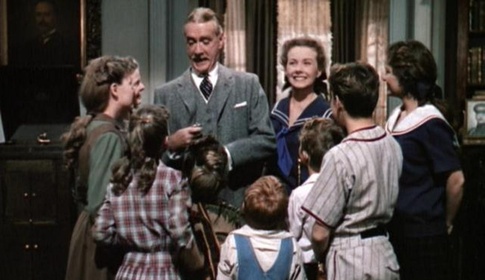 I guess I should tell you the general plot of the film, right? We open up in 1921 at the home of the Gilbreth's, Lillian is pregnant with baby numero doce, and Frank is doing some sort of whistling bird call that the Gilbreth 11 know means get-the-hell-downstairs-and-hug-dad. So how does one father support 12 children, a housewife, and a few hired helpers? Frank Gilbreth is an efficiency expert. Because apparently that's a job people get paid for.
It's 1921 and as parents of 12 it's no surprise that the Gilbreth's are a little on the conservative side. As flappers are starting to pop up everywhere with their bobbed hair and bare knees, Frank Gilbreth tries desperately to keep his eldest daughter Ann covered from head to toe. Even Lillian chides in that boys don't want to marry the flapper, sure they'll run around with her but boys want to marry a good girl. Just repeat the mantra after me: "this movie was made in 1950 and set in 1921, this movie was made in 1950 and set in 1921…"
Does Ann succumb to the fast paced, quick liquor lifestyle of a flapper? Does he get married straight out of high school and start working on 12 of her own? Do we ever find out what an "efficiency expert" actually does? Does my love for Myrna Loy save a pretty boring movie? No.
Don't get me wrong, this version is loads better than the remake but I just can't get past the fact that they gave all the flappers 1950s hairstyles. There is a little twist at the end that I won't spoil. I don't know if it's really a twist given that this is all based on the true story of the Gilbreth family but I wasn't expecting it so I'm gonna run with it and call it Shamalayan.
Trivia is cheaper in bulk too:
- Based on the real-life Gilbreth family. Daughter Mary actually died from a childhood illness but she's left in the movie. She's in the background and has no lines, which is kind of morbid.
- The house the family moves into in Montclair is the same as Judy Garland's house in Meet Me In St. Louis.
- There is a picture in the living room of real-life Frank Gilbreth.- Myrna Loy and Jeanne Crain reprised their role in the sequel Belles On Their Toes