Also known as A Cat's Life in actual Paris (and the rest of France – the film's country of origin), this delightful animated feature was released back in 2010. Though it only screened in the US on a limited release basis, A Cat in Paris found its way to becoming nominated for a Best Animated Feature Oscar in 2012 (losing out to a worthy Rango).
Clocking in at a solid yet undaunting 65 minutes running time, this sumptuous feast of hand-drawn animation has something for even the most non-committal of cartoon viewers. For your Saturday morning, you could do worse than taking in an enjoyably gripping adventure for all ages in the tradition of old French film noir whodunits! Indeed, one can imagine a young Jean Paul Belmondo or a modern day Jean Dujardin fitting snugly into the role of the valiant cat burglar Nico.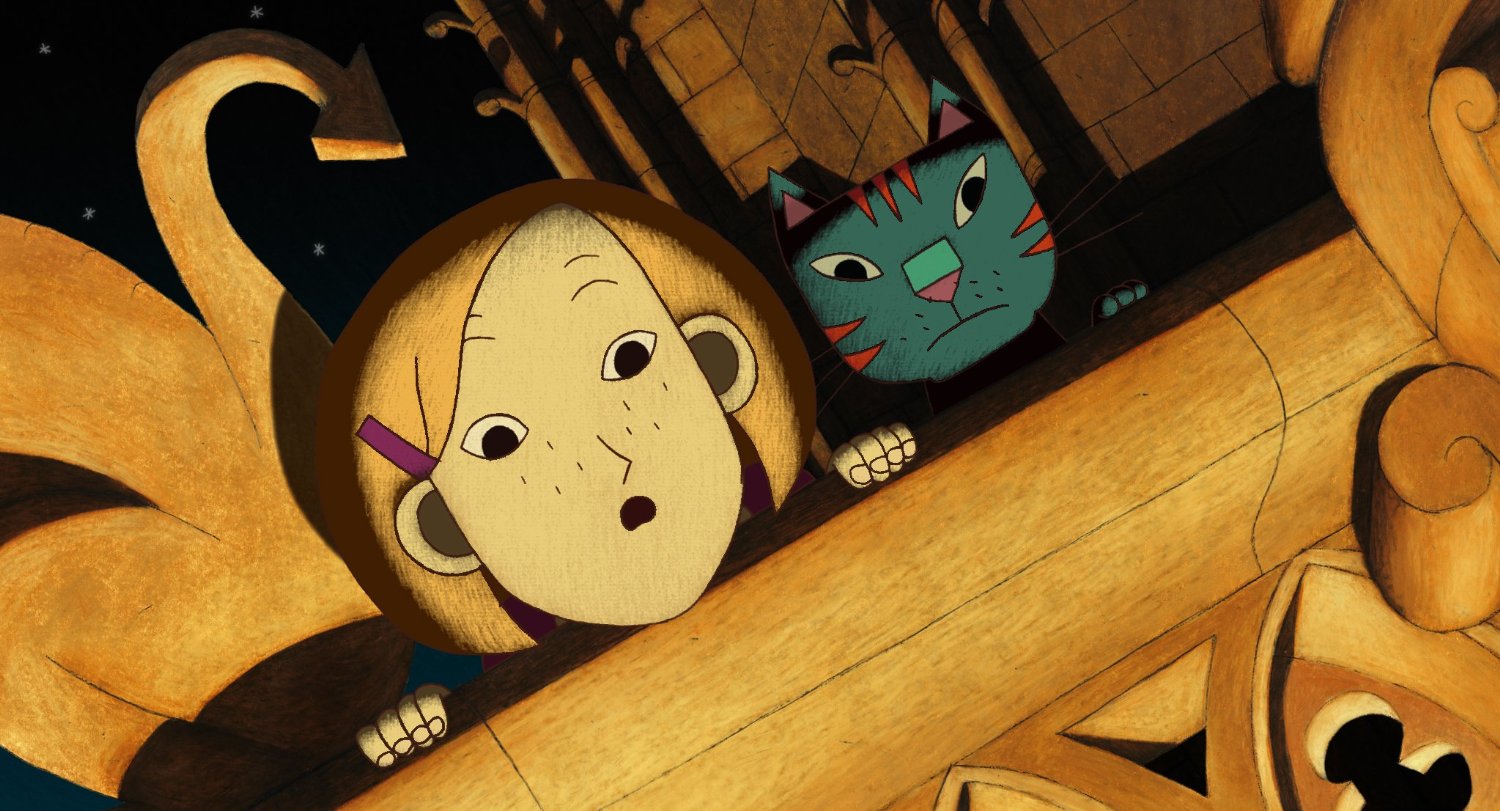 The real treat here outside of the noir-ish storyline is the animation. With a lush palate of deep vibrant colors and a reverence for impressionistic style, A Cat in Paris is a beautiful spectacle. In a world dominated by the Pixars and Dreamworks, animation created painstakingly by hand is something of a revelation. Also unique is the look of the characters in this animated Paris. With "artistically" shaped bodies, oblong heads and tiny almond shaped eyes, these characters are anything but boring.
As the name suggests, the film follows the double life of a cat named Dino. By day Dino spends his time with his "owner", a very young girl named Zoé, bringing her lizards he's caught and killed as gifts. By night, he rendezvous with Nico and assists in his nightly rooftop excursions burgling precious trinkets from the rich and privileged.
Young Zoé is mute; a condition which she's been suffering since the murder of her father. Her mother, Jeanne is a detective with the police and is investigating her husband's killer. This is believed to be the gangster Victor Costa, a true scoundrel who has a gang of thugs preparing to heist the African statue that Zoé's father had been guarding when he was killed. Jeane leaves Zoé with new housekeeper Claudine, who seems oddly unsuited for her position. This is no mere coincidence.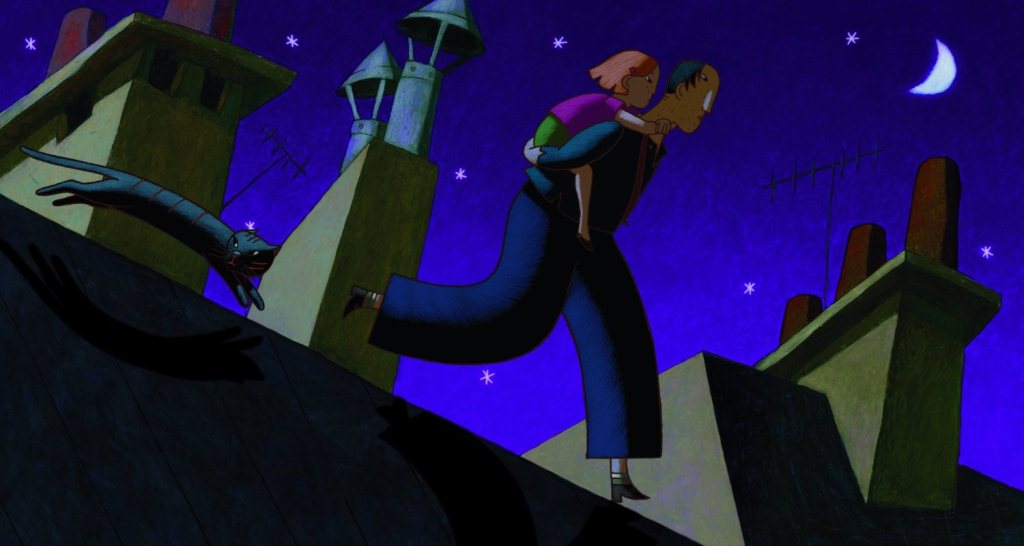 There are some cute playful quirks thrown in by writer Alain Gagnol. For example - the gang of men working for Victor Costa have some humorous names which translate into English as Mr. Baby, Mr. Frog, Mr. Potato and Mr. Hulot. The last one, Hulot, is possibly homage to the famous French film character created by Jaques Tati, Monsieur Hulot, of Mon Oncle and Playtime Criterion Collection gems.
Fans of Cowboy Bebop have reason to rejoice at the actual English voice casting for Nico: Steven Blum. Blum is known for putting his voice to countless animated series and features. Most prominently, Blum portrayed Spike Speigel in Cowboy Bebop and Mugen in Samurai Champloo. It is the perfect pairing of character and voice – calm to the point of comforting while still maintaining an edge of danger. Other notables rounding out the voice cast include Matthew Modine, Anjelica Huston and Marcia Gay Harden.
So if you're feeling like a thoroughly enjoyable adventure this Saturday morning, don't pass up A Cat in Paris. It won't disappoint!