Winter is still in full effect. Yes, this *applies to those of us in California, shrouded in human-sized scarves in 80 degree weather, knee high Ugg boots, drinking a juice for their cleanse and talking about how they have been "so off track with my cleanse over the weekend" and how "I need to do it, because if I don't, my skin just like can't even."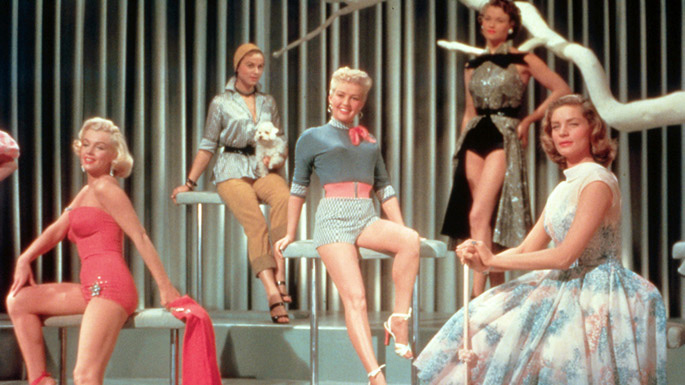 For those of you stuck in a wintery fortress just trying to survive, I am truly sorry. I've spent many a winter in the same boat. Freezing, due to the fact that my building controlled the heat and refused to turn it up a notch, on the off chance it would raise the heating/electrical bill. This made for many blanket purchases, a heating pad always on hand, and lots of shivering, while I cried not-related-to-cold On a more relevant note, Old Man Winter is said to love it when people watch old films. It's said he stops being such an angry fist shaker who punches people in the face, while he laughs as their tears turn to icicles. When it comes to old movies on Netflix, it's said that the older the film, the more it's known to quell the old man's ire:
*I'm sorry I used the word "applies" in any way, portray that California suffers at all. #Sorry
How to Marry a Millionaire (1953)
This movie follows the lives of three young women, who decide that they would much better suited to find a rich suitor for each of themselves. They pool their resources and set off to find their "Mister Rich". With a twist of events and some hilarious 1950's swingin' hijinx, these ladies end up finding themselves each a mate. I won't ruin the story, as Old Man Winter likes it when you do things for yourselves. It features a stellar, strong cast of women: Lauren Bacall, Marilyn Monroe, and Betty Grable and some oh so handsome men.
Lots of Selling Stuff to Keep Warm thoughts
Gentlemen Prefer Blondes (1953)
This film is an adaptation of the 1949 musical. It is again, filled with strong females, and offers sometrue comedy to help you breathe through the chilling air. It tells the story of performing duo, Lorelei and Dorothy, who end up on a cruise ship headed to Paris. While on board, there are many sexual innuendos made, and a series of mishaps, that lands Lorelei in some deep trouble over *Diamonds. As most of us have learned, depression era musicals never ended poorly, so a fortunate twist puts everything into perspective and all ends gleefully. The music is wonderful, the story is delightful and it stars two incredible females, Marilyn Monroe and Jane Russell.
* Diamonds are included in one of the most well-known songs from the film. GO FIGURE!
Several Cruise Ship Weather Thoughts
Funny Face (1957)
Maggie is a fashion editor for a high fashion magazine. She employs the help of Dick Avery, a famous fashion photographer, to help her find the next big thing. They stumble upon a bookshop and the store clerk, Jo, a budding philosopher. They use her for a few shots, and kick her out. They later realize she IS the next big thing and OLD PERSON WORD ALERT: finagle her into working with them. Jo's agrees but does it so that she can to go to Paris to meet her idol. This movie features the music of the undeniably talented George and Ira Gershwin, along with a sizzling old people sexy cast: Audrey Hepburn (doesn't want to be called beautiful in this film), Fred Astaire (calls Audrey Hepburn beautiful in this film), and Kay Thompson (agrees that Audrey hepburn is prettyish in this film).
Many Dancing to Keep Warm Thoughts 
Breakfast at Tiffany's (1961)
Loosely based on the novella by Truman Capote, this romantic comedy centres around Holly Golightly, an eccentric, want-to-be-well-off socialite. She makes acquaintances with her new neighbor and things just get sexier from there. With a beautiful story, a weensy bit of singing, some drunken mishaps, a very racist portrayal of a landlord, and a cat, this iconic film is one to see. This movie features: Audrey Hepburn, George "Sexy to me" Peppard, Buddy "Thought his last name was Epson" Ebsen, and Mickey "Oh so racist landlord" Rooney.
Gentle Moon River Serenading Thoughts
Charade (1963)
Henry Mancini scores this mysterious/comedic film, which follows the story of widow, Reggie Lampert, who comes home to find out her husband was murdered. After a weird funeral scene, she is contacted by a member of the CIA and told that her husband, Charles, along with the weirdos from the funeral, were supposed to deliver gold to the French Resistance, but the weird men stole it and killed her husband! Sidebar: Can you believe that the weird people stole something and killed someone? I, for one, was Shocked. Back to synopsis: Reggie is forced to flee for her life from the remaining men and ends up getting help from Peter "That's not who I really am, but trust me anyway" No Last Name. It's a complicated movie, but it's worth the watch. It has a really great story and features: Audrey Hepburn, Cary "I'm not actually Peter No Last Name" Grant, and Walter Matthau.
So Many Well Scored Mysterious and Suspenseful Thoughts