You can put that knife down, the Daredevil teaser trailer was finally released! Daredevil is the first of many Netflix/Marvel series to come so there's a lot of pressure to make sure it's good. I'm sure you're freaking out to watch it so , after we'll discuss:
The trailer shows a lot about the tone and shows what I wasn't expecting to be true. For example, Netflix has been very prudent about distancing themselves from the previous films storyline. They didn't want to make Daredevil a bad person yet this entire trailer takes place around his confession with a Liam Neeson looking priest and drug lords.
As I mentioned, the tone of the series is a lot more in fashion of DC reboots where they go dark and gloomy. Sure, Matt Murdock is a bummed out blind kid but doesn't mean he's gotta be sadder than Peter Parker in Spider-Man III…. but this was before Marvel knew what they were doing.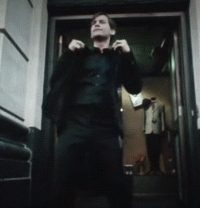 Also, as I mentioned yesterday, the all black suit is replacing the famed red horned devil costume for the entirety of the trailer. An IGN interview with Steve DeKnight told us that the costume is influenced by the origin story of the comic series The Man Without Fear. "We didn't want to start him in the [red] suit. We wanted the early days of him figuring out what he was doing and making mistakes and getting the crap beat out of him on a regular basis." DeKnight told them, "his suit, which we call his vigilante outfit."
Other things to take away from this trailer are the fact that KINGPIN IS REAL. He gets the shit kicked out of him… a lot. Also, the cast is impressive. I'm excited for the series release but I'm praying that the Marvel brand won't let the show fall into the Netflix trap of taking too long to build the story up to a place that's interest like it has done before with shows like Marco Polo.
Daredevil has the fill season releasing April 10th and I'm sure a full trailer coming soon!