Since this weekend is a nice long Labor Day weekend I'm sure most of you are packing your bags for a nice long "staycation" by your television and A.C. unit. Myself, I'll be putting towels over my windows and pretending that I live in Alaska when their having 30 days of night while watching nothing but road trip movies, since I can't afford to take one myself. So feel free to board up your windows (in case this is the weekend for a zombie apocalypse) and enjoy the warming glow of these road trip movies on Netflix right now:
I'm not saying that the English do road trip flicks the best, but I will say that The Trip doesn't prove that statement wrong. It's about a pair of actors who test their friendship when they set off on a foodie road trip across England. Steve Coogan and Rob Brydon have such a great chemistry that it makes up for the fact that the movie is just two men sitting and eating places. I have so much love for The Trip because it's exactly how I'd hope a road trip with my friends would be, that's including the childish fights.
Watchability: Do it! Just a friendly warning… This movie will cause you to do celebrity impressions
When Chris and his girlfriend Tina take a road trip across the countryside, but when Chis' habit for murder takes their trip on a wrong turn. Ben Wheatley's film Sightseers is both funny and gruesome at times, but for the most part it shows the beautiful side to historical England. With the gorgeous landscape of old England as their location, it was easy for Wheatley to exploit his experimental style in this twisted road trip movie.
Watchability: It's like 28 Days Later meets Falling Down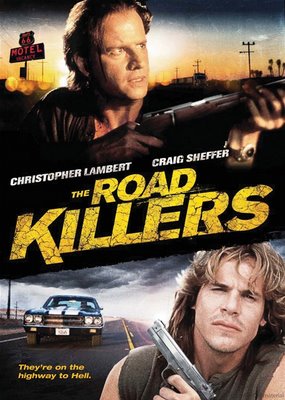 A movie with so many stars before they were stars like Joseph Gordon-Levitt. While road-tripping through the Arizona desert, a family is terrorized by a gang of deranged drivers led by a vicious psychopath. I recently cut a movie from the 90s with Craig Sheffer (Chef) so I'm favoring this because of him I couldn't find you a trailer of the film so I found this drunk guy giving you a review.
Watchability: I added it to my queue based on the poster alone
This documentary explores whether America still has a sense of community, a man spends a month depending on the goodness of Craigslist posters for his survival. I really like the idea of a man using craigslist to get across the country but I think it's a much more interesting trailer than it is a movie. The trailer really shows off the great parts of the film as well as the overall question that in the end… wasn't really answered for me.
Watchability: You can pass on this just just like he got passed off.
Thelma & Louise is Raising Arizona meets Dumb & Dumber… An Arkansas waitress and her naïve housewife friend hit the road for a simple weekend of freedom — and end up on a wild flight from the law after accidentally killing a man. This movie gave us two things, Brad Pitt and his abs. It's a fun romp for everyone who enjoys the simple things in life, like good country music and mens butts.
Watchability: The best thing to happen for ladies since being able to vote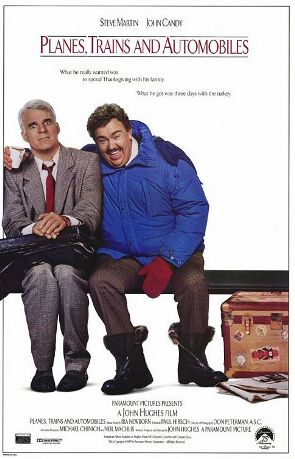 Planes, Trains & Automobiles is the definitive road trip movie and the perfect one to close out this list. Steve Martin plays a businessman trying to get home for Thanksgiving, but when he runs into numerous disasters… including being stuck with an uncouth, unshakable traveling companion (John Candy) he finds out who he really is. When I was a kid, this movie spent almost as much time in my VCR as Uncle Buck because it's on the same level of awesomeness and John at his Candy-est.
Watchability: Save this for Thanksgivin', but don't leave the Holiday without it!